What Are Dental Implants and How Can They Help Replace Missing Teeth?
Damaged or missing teeth are more than just a cosmetic dental issue— they can cause serious problems with the function of your mouth and jaw because of alignment changes. These changes can negatively affect the way we eat and speak. Additionally, they can make your teeth prone to unwanted shifting, cracking, or infection because of gaps or damage. This means it's extremely important to protect your teeth and ensure your smile stays the way you want it to.
Dental implants are one of the best tooth replacement options available because they can fully replicate natural tooth structure in form and function, ensuring your smile remains healthy and complete. Implant dentistry may be recommended for patients who are missing several teeth or a single tooth. Dental implants work by implanting a specialized, biocompatible prosthetic into the jawbone and then attaching a fabricated crown, bridge, or denture that blends in with your natural teeth. The result is an implant that works and looks just like your natural teeth.
Don't let damaged or missing teeth affect your health, reduce your self-confidence, and keep you from feeling like yourself when you're at your best. At New York General Dentistry, we help patients restore their smiles and improve their health with the most modern and high-quality dental restorations. Dr. Chern's implant dentistry is among the best available in Manhattan.
Dr. Chern is both very warm and extremely capable. I was very nervous, having gone some years without seeing a dentist and having developed a problem tooth. Dr. Chern was patient and calming. The visit was pretty painless.
-Claire S
Benefits of Dental Implants
Durability
Dental implants are virtually permanent with the right care, meaning they're extremely durable and have a very high success rate. Implants can function just like your normal teeth so you don't need to worry about chipping or cracking your implants with regular eating. This makes them a great long-term investment in your dental health!
Natural Look and Feel
Dental implants are extremely sophisticated and can mimic the natural look and feel of real teeth. A skilled and experienced dentist can make sure your implants are perfectly matched and blend in so it fits right in and looks like natural teeth. You can feel confident that no one will notice a difference when you smile.
Effective Restoration
Dental implants are one of the most effective ways to restore your smile since they integrate directly into your jawbone and aren't susceptible to factors like decay or cavities. With a dental implant that is easy to care for, you can restore the fit and function of your bite. Once in place, dental implants function like natural teeth.
Meet With Dr. Inna Chern & Her Manhattan Team
To learn more about Dental Implants in Manhattan and your treatment options, contact our office for an appointment by calling or filling out our online form. Dr. Inna Chern and her team will personally work with you to plan your best treatment options and restore the function and beauty of your smile.
The Dental Implant Treatment Process and What to Expect
The entire dental implant procedure takes place over several appointments to ensure the health of your teeth and the best results regarding the look and function of your new dental implants. After ensuring that any outside factors such as tooth decay are addressed, the implant is placed in the jawbone. Then, the implant can be covered with a crown or bridge. These steps generally take place over the course of four appointments with your oral surgeon.
Your First Appointment (60-90 minutes)
During this appointment, Dr. Chern will discuss your options and examine your teeth for any concerns. If there are factors like shifting, decay, or infection, these will need to be addressed first.
You'll discuss your dental health history and Dr. Chern will take photographs of your face and teeth. This will give us a baseline to create your implant as well as help us track your progress going forward.
During this appointment, Dr. Chern will explain the implant procedure and make sure it's a good fit for your needs. This is a great time to ask questions and ensure you know what to expect with the implant process.
Your Second Appointment (45-60 minutes)
You'll be given anesthesia during this appointment so that you're completely comfortable. This is usually either local anesthesia or IV sedation based on your unique procedure.
Once you're relaxed and ready, the implant prosthetic will be carefully placed into the jawbone through an incision in the gum where your teeth are missing. Most people experience less pain and discomfort than they expect during this step.
After the implant socket is placed, you'll be sent home to recover while it heals and integrates into the bone over the course of 3-6 months. Most people return to work within a day or so of placement, and you can manage discomfort with some over-the-counter medications.
Your Third and Fourth Appointment (30-45 minutes)
At this appointment, Dr. Chern will evaluate your implant socket and take impressions and scans for the lab to create your dental restoration.
A dental crown, bridge, or denture will be placed on the dental implant. Crowns are custom made to ensure that the replacement looks like natural teeth and matches the rest of your smile.
Dr. Chern will check it for proper fit, function, and aesthetics.
Your Final Appointment (30-45 minutes)
During this appointment, Dr. Chern will make sure that your mouth is adjusting well to the new implant and restoration. She will go over all aspects of maintenance and care. Once the implant is in place, it will remain there for the long term, meaning it will essentially be a part of your mouth. Dr. Chern may also evaluate you for an occlusal splint or night guard. The splint helps maintain the longevity of the implant by equalizing the forces along with the prosthetic.
Dental Implant FAQs
What is the difference between dental implants and mini implants?
What is the alternative to dental implants?
Who is not suitable for dental implants?
Who is a candidate for dental implants?
What is a mini dental implant?
What causes dental implants to loosen?
How many different dental implants are there?
How long does a dental implant last?
Should I get a bridge or implant?
What are full denture implants?
How do you take care of a full mouth of dental implants?
Is tooth extraction worse than implant?
Is a dental implant considered oral surgery?
How do I prepare for dental implants?
Do mini dental implants last?
Do gums grow around implants?
Can your mouth reject an implant?
Can you get full mouth dental implants?
Are dental implants safe for seniors?
Can I drive home after dental implant surgery?
Can I get a dental implant years after extraction?
Can a dental implant be done in one day?
Can a tooth implant get infected?
Can implants be done with bone loss?
Can all teeth be replaced with implants?
Can you get a temporary tooth while waiting for an implant?
Do they sedate you for dental implants?
Do tooth implants feel real?
Does food get under dental implants?
How are dental implants fitted?
Caring For Your Dental Implants
It's extremely important to care for your implants as you would any other teeth. That being said, make sure to follow these steps to ensure your implants last for years to come:
Eat a healthy diet (cut back on sweets and soft drinks)
See your dentist regularly (every 4-6 months) for hygiene appointments
Brush your teeth twice daily for 2 minutes with a soft or electric toothbrush
Floss every day or use a water flosser (Waterpik)
Always clean between the teeth and around the dental implant
What Makes Our Office the Right Fit for Your Dental Needs?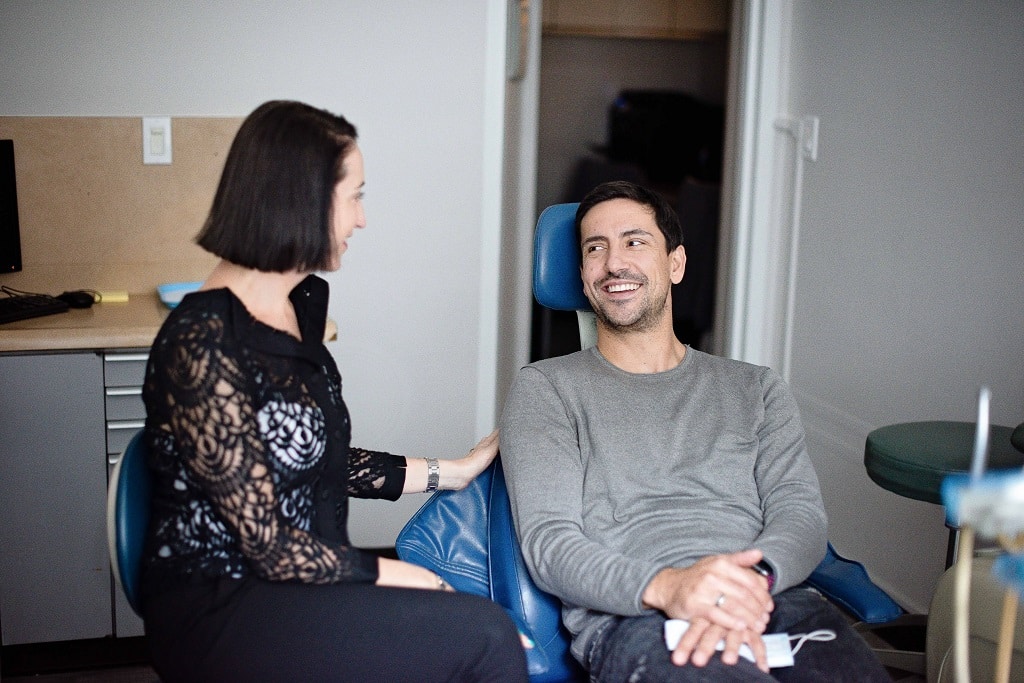 Personalized Care
We never take a one-size-fits-all approach to dental bridges. Dr. Chern will evaluate your missing teeth, working closely with our team to create a custom solution.
Comfortable Office
Our bright and modern Midtown East Manhattan office was designed with you in mind. Enjoy a calming atmosphere and comfortable amenities to help you feel at ease.
Health-First Approach
New York General Dentistry uses modern techniques and equipment to ensure your dental bridge treatment is a success.
Let's Brighten Your Smile!
New York General Dentistry is always welcoming new patients to our Midtown East dentist office.
Our New York City Office
Midtown East Manhattan
133 East 58th St., ste 409
New York, NY 10022
Get Directions
Hours:
Monday 8am – 7pm
Tuesday 8am – 5pm
Wednesday 8am – 5pm
Thursday 8am – 7pm
Friday 8am – 5pm

Sundays – Available by request for special cases and dental emergencies