When people hear the word Botox, they usually think of wrinkle treatment and cosmetic procedures. But Botox can also have life-changing benefits when used to treat the pain and headaches caused by teeth grinding (bruxism) or temporomandibular joint disorder.
Botox has a long history of treating both cosmetic and medical issues. It received FDA approval for its first therapeutic use in 1989 as a treatment for strabismus (crossed eyes) and blepharospasm (eyelid spasms).
Botox went on to receive FDA approval as a treatment for many other disorders and continues to be one of the most widely researched treatments of its kind. New uses, such as those administered by dentists like Dr. Chern, are discovered every year, providing a natural and effective solution for people who suffer from muscle tension, chronic headaches, and more.
What is Botox and How Does It Work?
Botox is the trademarked name for a formula that utilizes botulinum toxin A as its active ingredient. Botulinum toxin A has been studied for decades since being identified as a product of the bacterium Clostridium botulinum in the early 1920s.
Put simply, Botox works by dulling the signals that control muscle movement around the site where it is injected, relaxing overactive muscles. More specifically, botulinum toxin A is a neurotoxin that binds to nerve endings and prevents the flow of acetylcholine, a neurotransmitter responsible for stimulating muscles to contract. By limiting the flow of acetylcholine, muscle activity is inhibited, but not completely paralyzed, allowing some movement while reducing hyperactivity.
I have been Dr.Chern's patient for several years now and I have no intention of ever finding another dentist. She was my primary dentist when i lived in NY, but I have since moved to DE and PA , and will travel up to see her for my appointments. When you find an amazing dentist, you stick with them. She's honest, professional, delicate and knows what she's doing. Her staff is just as amazing.
-David K
The Dental Bridge Treatment Process and What to Expect
Your First Appointment (60-90 minutes)
Pictures and models will be taken to assess the area. These help determine the right tooth shape and color selection, as well as help collaboration with the dental lab. The dental lab will make your dental bridge custom, so that it best matches the color and shape of your surrounding natural teeth and have the best cosmetic result.
You'll discuss your cosmetic desires and material options for the bridge with Dr. Chern. Detnal bridges can be made from a variety of materials, including porcelain, gold, alloys, or a combination of materials.
The neighboring teeth will be prepared under local anesthesia to act as the "anchors" for your dental bridge, so that it can be fixed in place permanently. You won't feel any discomfort or pain during this step.
A temporary bridge will be placed to protect your teeth and gums while the lab fabricates the permanent bridge framework.
Your Second Appointment (30-45 minutes)
The temporary bridge will be removed and the bridge framework will be tried on to check its function and aesthetics. The specific considerations at this step will vary according to the materials you have chosen for your bridge. For example, if you've chosen porcelain, color matching can be evaluated at this step.
A new "pick-up" impression will be taken and the framework will be sent back to the lab for ceramic application.
Your temporary bridge will be replaced and any necessary pictures will be taken.
Your Final Appointment (30-45 minutes)
The final restoration will be placed in your mouth and checked for function and aesthetics.
The finished bridge will be bonded into place to complete your restoration.
Dr. Chern will provide you with a list of instructions for your new dental bridge.
Meet With Dr. Chern &
Her Manhattan Team
To learn more about _____ in Manhattan and your treatment options, contact our office for an appointment by calling or filling out our online form. Dr. Inna Chern and her team will personally work with you to plan your best treatment options and restore the function and beauty of your smile.
Your Follow-Up Appointment (15 minutes)
We will schedule a follow-up 1-2 weeks after the placement of your new bridge to check how your teeth are feeling and functioning. We may also recommend a bite splint or nightguard to protect your new prosthetic from excessive force.
Caring For Your Bridge
Taking good care of your dental bridge will guarantee a long-lasting restoration. Follow these care tips to ensure that you maintain your new smile, ensure the health of your teeth, and get the most out of your investment:
Eat a healthy diet (enjoy sweets and soft drinks in moderate amounts).
See your dentist regularly (every 4-6 months for a hygiene appointment).
Brush your teeth twice daily for 2 minutes with a soft or electric toothbrush.
Floss every day or use a water flosser (Waterpik).
Always clean between the teeth and around the dental bridge.
"There are many ways to achieve the smile of your dream. Lets talk about how we can make it happen."
What Makes Our Office the Right Fit for Your Dental Needs?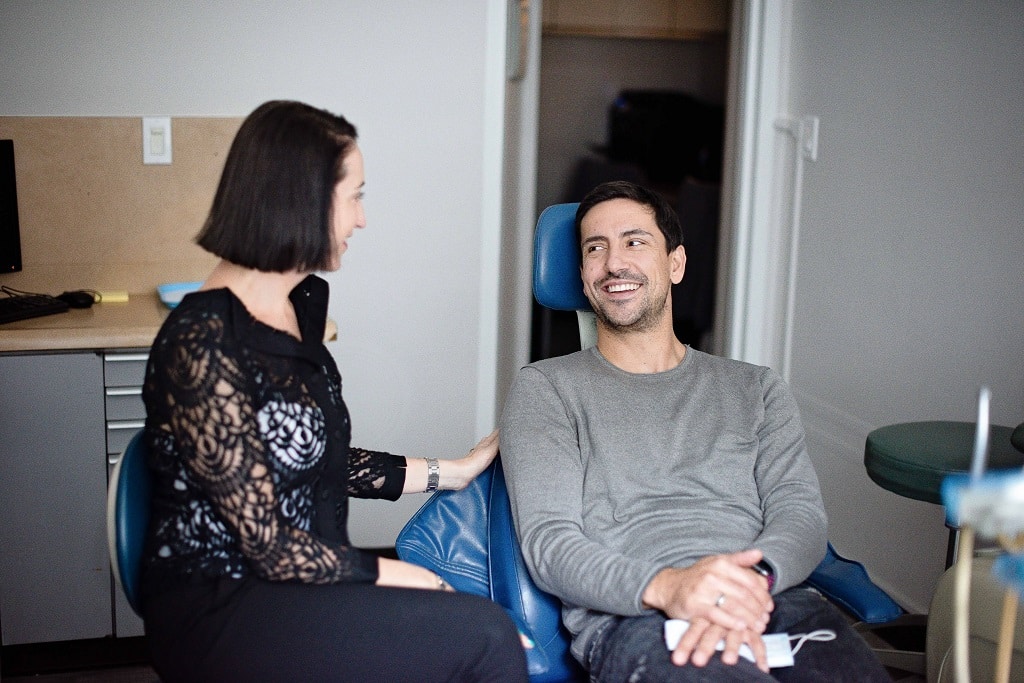 Personalized Care
We never take a one-size-fits-all approach to dental bridges. Dr. Chern will evaluate your missing teeth, working closely with our team to create a custom solution.
Comfortable Office
Our bright and modern Midtown East Manhattan office was designed with you in mind. Enjoy a calming atmosphere and comfortable amenities to help you feel at ease.
Health-First Approach
New York General Dentistry uses modern techniques and equipment to ensure your dental bridge treatment is a success.
Let's Brighten Your Smile!
New York General Dentistry is always welcoming new patients to our Midtown East dentist office.
Our New York City Office
Midtown East Manhattan
133 East 58th St., ste 409
New York, NY 10022
Get Directions
Hours:
Monday 8am – 7pm
Tuesday 8am – 5pm
Wednesday 8am – 5pm
Thursday 8am – 7pm
Friday 8am – 5pm

Sundays – Available by request for special cases and dental emergencies