What Are Veneers and How Can They Change My Smile?
If you have misshapen, discolored, misaligned, or chipped teeth, it's natural to feel self-conscious about your smile. Fortunately, cosmetic dentistry is a great way to transform your smile without pain or discomfort using the latest techniques and treatments. In Manhattan, cosmetic dentist Dr. Inna Chern offers minimally invasive porcelain and composite veneers as a cosmetic restoration method at our Midtown practice.
Porcelain or composite veneers are thin coverings that are placed over the visible surface of each tooth. They look just like natural teeth and can be customized to match your natural smile while still improving its appearance. Porcelain dental veneers look and feel just like your natural teeth but can correct or mask concerns like cracks, discoloration, and misalignment. The best part is that veneers can last for ten to twenty years or more with the right care and guidance from your dentist.
Dr. Chern for president!!
I was SO pleased with how professional, intelligent, and patient she is! She makes the experience easy and fun. Maybe the best dentist I've ever seen in my life… you will not regret making an appointment with her!
-Carter M
Types of Veneers
Composite Veneers
Composite veneers are made from a composite resin material that is applied to the teeth in small increments and often with little to no drilling. Composite veneers are a minimally invasive way to achieve your aesthetic goals and often are a bit less costly than lab-fabricated ceramic veneers. Composite veneers can be completed in one appointment to our Midtown Manhattan office.
Porcelain Veneers
Porcelain veneers are a very durable alternative to composite veneers and provide the highest level of aesthetics. They can be made of varying ceramics such as feldspathic porcelain (mostly aesthetic), Emax (lithium disilicate), and Zirconia (known for its extraordinary strength). They provide the highest level of luster and the ability to blend seamlessly with remaining teeth.
Porcelain veneers do not stain and are as close in strength to natural tooth enamel. Porcelain veneers require multiple appointments and are custom fabricated by our world-renowned ceramists.
Meet With Dr. Chern &
Her Manhattan Team
To learn more about Porcelain Veneers in Manhattan and your treatment options, contact our office for an appointment by calling or filling out our online form. Dr. Inna Chern and her team will personally work with you to plan your best treatment options and restore the function and beauty of your smile.
The Porcelain Veneers Treatment Process and What to Expect
Your First Appointment (30-60 minutes)
Dr. Chern will take photographs and models to discuss your treatment goals during a consultation. You'll go over your options for your specific cosmetic restoration goals and a virtual smile design rendering will be ordered from our world-renowned dental lab. Dr. Chern can discuss any other options you might have for enhancing your smile with our best cosmetic dentistry options, such as teeth whitening treatments, before you commit to veneers.
Your Second Appointment (30-45 minutes)
You'll review the virtual smile design and a "trial smile" will be placed in your mouth. Pictures will be taken and we'll discuss any adjustments to the aesthetics before we fabricate dental veneers for you. This means you'll be able to try on your new smile before any drilling occurs so you can ensure you'll get the result you want.
Real Results
New York Genral Dentistry is committed to providing the best in dental health care and meeting your unique needs. View our gallery of incredible results!
Your Third Appointment (60-120 minutes)
To place veneers, the teeth need to be prepared. Dr. Chern will gently reshape the surface of each tooth so that the veneer can be applied to the surface. A local anesthetic will be used during tooth preparation to minimize any discomfort.
Once the teeth are reshaped, an impression is taken of your teeth. This will be sent to our lab to create your veneers. Temporary veneers will be placed while your final veneers are made. The temporaries are made with a special resin material and will look and feel similar to the permanent veneers but can be easily removed once the time comes to place your final veneers.
Patient Testimonial
Choosing Veneers is Choosing an Empowered Smile
Your Final Appointment (60-90 minutes)
During this appointment, Dr. Chern will remove your temporary veneers and try the permanent ones. She will examine your new veneers to make sure they have the right fit and form before bonding the veneers to the teeth.
Once everything is confirmed, the teeth are cleaned with pumice, polished, and etched. A special dental cement is applied to the veneers and the veneers are placed over the natural tooth. A special light-curing tool is used to set the veneer into its permanent position. Finally, your bite will be checked and excess cement will be cleaned off. Final pictures will be taken and you'll be ready to return home and enjoy your new smile!
Your Follow-up Appointment (1-2 weeks after)
Dr. Chern will schedule a follow-up appointment with you after placing your veneers. These follow-up appointments can help Dr. Chern oversee how your teeth and mouth are reacting to the veneers and check for any concerns that might arise. After this appointment, you should make sure to schedule your regular hygiene appointments to make sure your veneers are long-lasting and getting the care they need.
Porcelain Veneer FAQs
Are crowns better than veneers?
Can a regular dentist do veneers?
Can veneers fall off?
Are Porcelain veneers permanent?
Are Porcelain veneers worth it?
Can you get veneers on bottom teeth?
Are temporary veneers thicker?
Can you get veneers without shaving your teeth?
Do veneers make your teeth look bigger?
Can you sleep with veneers?
Can you use hydrogen peroxide on veneers?
Do Veneers stay white?
Can you use mouthwash with veneers?
Do you have to brush your teeth with veneers?
Do veneers feel like real teeth?
How do you clean your real teeth with veneers?
Is it painful to get porcelain veneers?
What are the requirements for veneers?
What cant you eat with veneers?
What happens to teeth under veneers?
Will whitening strips damage veneers?
What is the process of getting porcelain veneers?
What is the best toothpaste for porcelain veneers?
How often do veneers have to be replaced?
How long does it take to get veneers done?
How do you know if you need veneers?
How do you clean your teeth under veneers?
Caring For Your Veneers
Taking good care of your veneers will mean that you get the most of your investment. You should make sure to follow these care steps at home to keep your veneers healthy and long-lasting:
Eat a healthy diet (go easy on sweets and soft drinks)
See your dentist regularly (every 4-6 months for a hygiene appointment)
Brush your teeth twice daily for 2 minutes with a soft electric toothbrush
Floss every day or use a water flosser (Waterpik)
Always clean between your teeth and around your veneers
Depending on the type of material, you can expect to get between ten to twenty years out of your custom-made veneers. Dr. Chern may also recommend an oral splint or nightguard to protect your teeth from forces and extend the life of your dental veneers.
What Makes Our Office the Right Fit for Your Dental Needs?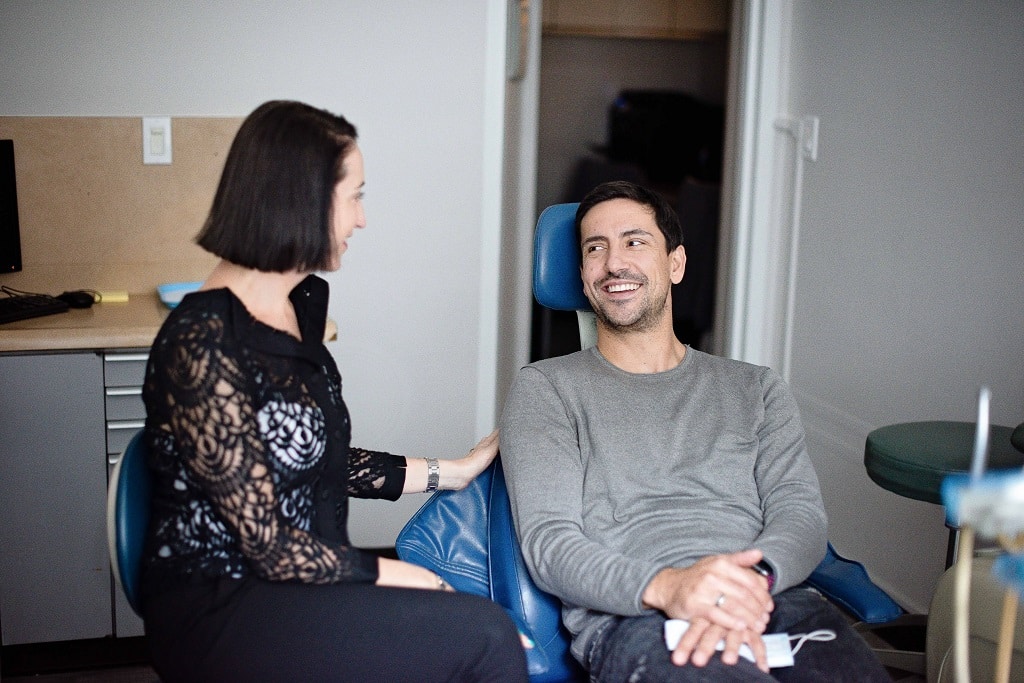 Personalized Care
We never take a one-size-fits-all approach to your oral health. Dr. Chern will evaluate your teeth and gums, working closely with our team to create a custom solution.
Comfortable Office
Our bright and modern Midtown East Manhattan office was designed with you in mind. Enjoy a calming atmosphere and comfortable amenities to help you feel at ease.
Health-First Approach
New York General Dentistry uses modern techniques and equipment to ensure your treatment is a success.
Let's Brighten Your Smile!
New York General Dentistry is always welcoming new patients to our Midtown East dentist office.
Our New York City Office
Midtown East Manhattan
133 East 58th St., ste 409
New York, NY 10022
Get Directions
Hours:
Monday 8am – 7pm
Tuesday 8am – 5pm
Wednesday 8am – 5pm
Thursday 8am – 7pm
Friday 8am – 5pm

Sundays – Available by request for special cases and dental emergencies