What is a Root Canal and How Can My Dentist Help?
Tooth pain can cause anxiety, especially when you're worried about what to do and how much it will cost. It can be scary to consider that you'll need an invasive procedure or even lose the tooth, but it's important to know that your dentist is here to help. Tooth pain can indicate a serious issue, but your dentist can intervene and help preserve your tooth's function with the right steps. If your tooth hurts or is sensitive or swollen, it might be the result of decay, which means it can be easily fixed through root canal therapy.
Tooth decay begins to happen when bacteria eat away at the enamel, and you can often tell this is happening when it hurts to bite or chew. This is because the enamel is weakened and there's less protection between the underlying nerves and the outside world. When the decay becomes advanced, it can affect the deep structures of the tooth, including blood vessels and nerves, causing the patient pain even when you don't put pressure on it. When detected early, tooth decay can be easily corrected with a simple composite filling or similar restorative technique. When the decay becomes an infection that spreads beyond the outer layers of the enamel and invades the pulp and root, root canal therapy is usually necessary.
At New York General Dentistry, we use the latest technology and equipment to make sure your root canal procedure is as non-invasive and pain-free as possible. A root canal is one of the most common dental procedures performed by a New York City dentist or endodontist. Root canal therapy is designed to eliminate bacteria that have infected the internal canal system of a tooth and prevent reinfection in the future. This treatment helps save your natural tooth and restore its function through minor surgical techniques. Additionally, root canal treatment can effectively relieve pain associated with a damaged or infected nerve. If you experience lasting pain or sensitivity, Dr. Chern can recommend your next steps. At New York General Dentistry in New York, NY, we use the latest technology and equipment to make sure your root canal procedure is as non-invasive and pain-free as possible.
Dr. Chern is an incredible dentist. She is well-trained, competent, and makes my whole visit experience both productive and fun. I routinely go to her office for my dental check-ups (teeth cleaning included), and I am always impressed with how efficiently she works. In addition, I have found the the zero wait-time to be rare in NYC, but Dr. Chern has never made me wait! She has excellent bedside manner, is caring, and I always trust her judgment regarding decisions about my teeth.
-Tammy T
Signs You May Need a Root Canal
Lingering Pain
Serious pain when you eat or put pressure on an area can be a sign of infection. Additionally, if the area still hurts after the pressure subsides (or even without pressure), you should see your dentist.
Hot or Cold Sensitivity
If it's extremely uncomfortable or even painful when you eat hot or cold foods, it can be a sign that decay has begun to expose the underlying nerves. This is especially true if the pain or sensitivity lingers even after you're done eating.
Swelling in the Gums
Gums that are swollen or have small bumps around the area where you experience pain can indicate that you'll need to see your dentist to discuss whether you need a root canal.
Darkening of the Tooth
A change in color, especially darkening, is a sign that the tooth may be infected. If the tooth appears gray against the surrounding teeth, it can mean that the underlying structures have begun decaying.
Root Canal FAQ's
Can a root canal infection spread?
Can a tooth have 2 root canals?
Can I eat after root canal?
Can root canals be redone?
Can antibiotics heal an infected root canal?
Can you get a root canal and crown in the same day?
Can I drive home after a root canal?
Can you rinse with salt water after a root canal?
Can you use a straw after a root canal?
Does root canal hurt during procedure?
Do all root canals need a crown?
How can I prevent a root canal naturally?
Do I need crown after root canal?
How do I get rid of a tooth infection without a root canal?
How do you prepare for a root canal?
Do they numb you for a root canal?
How many appointments do you need for a root canal?
How does a root canal work?
How is a root canal done on a front tooth?
How is a root canal tooth removed?
How long does a root canal take?
Is throbbing pain after root canal normal?
Is the tooth dead after a root canal?
Is a root canal painful?
Is it easier to pull a tooth after a root canal?
What are the disadvantages of root canal?
What are the two stages of a root canal?
What causes tooth pain after root canal?
Should I take ibuprofen before root canal?
Should I take time off work after a root canal?
What are the complications of a root canal?
What happens if you wait too long to get a root canal?
What does the beginning of a root canal feel like?
What should I avoid after a root canal?
Why do root canals take two appointments?
What is the alternative to a root canal?
What is the point of a root canal?
Why do you need a temporary filling after a root canal?
What is the second stage of root canal?
Can YouU Rinse With Saltwater After A Root Canal?
What are the signs I need a root canal?
The Root Canal Process and What to Expect
Your First Appointment (60-75 minutes)
Dr. Chern and our New York City dentistry team will ensure you are completely comfortable and relaxed while we talk you through the process and what to expect. Then, you'll be given anesthesia so that you don't experience any pain or discomfort during the process.
A rubber dam will be placed on the tooth to ensure a sterile environment.
The internal parts of the tooth (sometimes referred to as the "pulp chamber") will be debrided and cleaned of decay and infected tissue.
If there is no excess of infected and inflamed tissue, gutta-percha (a specialized filling material) will be placed and a temporary filling will close off the internal structure of the tooth.
A final x-ray will be taken to confirm the completion of the process and a subsequent crown appointment will be scheduled. A crown is a cap placed over the tooth that can ensure the tooth is not reinfected– and that the tooth looks and works like normal.
Your Second Appointment (30-60 minutes)
Occasionally, it's determined at the first appointment that the tooth is too infected to seal off and medication is placed inside the tooth to allow it to heal.
The rubber dam is placed again and the pulp chamber of the tooth is re-accessed to remove the medication. If proper healing has occurred, then gutta-percha is placed.
A temporary filling is placed and a final X-ray is taken to confirm proper completion and a subsequent crown appointment is scheduled.
Meet With Dr. Chern &
Her Manhattan Team
To learn more about Root Canal in Manhattan and your treatment options, contact our office for an appointment by calling or filling out our online form. Dr. Inna Chern and her team will personally work with you to plan your best treatment options and restore the function and beauty of your smile.
Caring For Your Teeth After A Root Canal
Taking good care of your teeth will guarantee they stay healthy and functional for a lifetime. As a root canal treatment patient, you should follow these care tips after your appointment in our New York City office to ensure your dental work lasts a lifetime:
Eat a healthy soft diet until the crown and the permanent restoration is placed
See your dentist regularly (every 4-6 months) for a hygiene appointment
Brush your teeth twice daily for 2 minutes with a soft or electric toothbrush
Floss every day or use a water flosser (Waterpik)
Have a dental x-ray taken of the root canal once a year to ensure proper healing
What Makes Our Office the Right Fit for Your Dental Needs?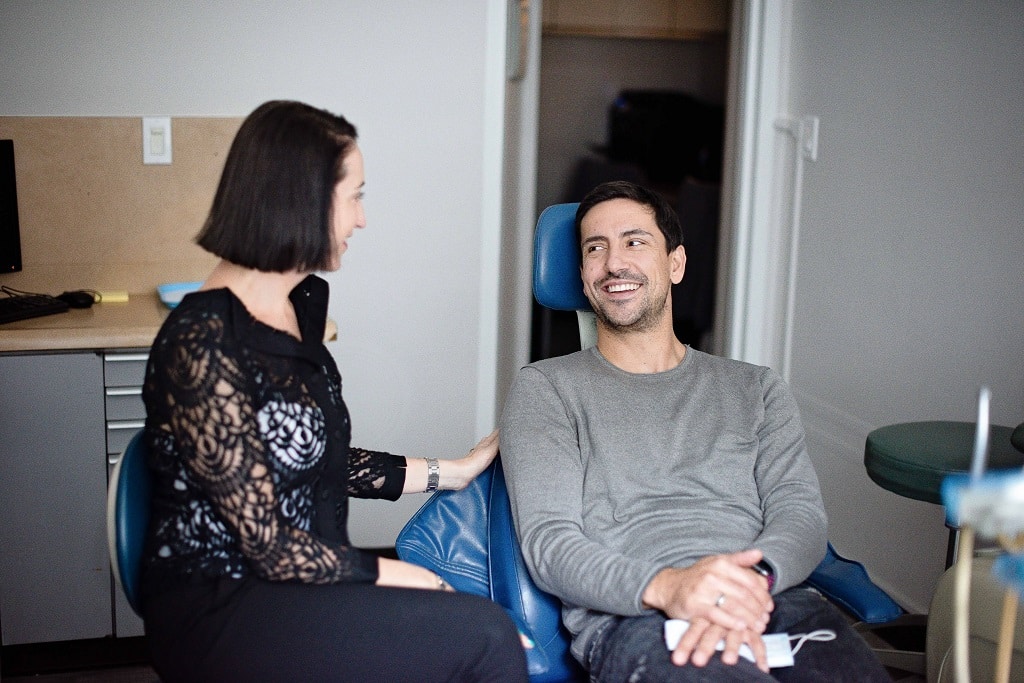 Personalized Care
We never take a one-size-fits-all approach to your oral health. Dr. Chern will evaluate your teeth and gums, working closely with our team to create a custom solution.
Comfortable Office
Our bright and modern Midtown East Manhattan office was designed with you in mind. Enjoy a calming atmosphere and comfortable amenities to help you feel at ease.
Health-First Approach
New York General Dentistry uses modern techniques and equipment to ensure your treatment is a success.
Let's Brighten Your Smile!
New York General Dentistry is always welcoming new patients to our Midtown East dentist office.
Our New York City Office
Midtown East Manhattan
133 East 58th St., ste 409
New York, NY 10022
Get Directions
Hours:
Monday 8am – 7pm
Tuesday 8am – 5pm
Wednesday 8am – 5pm
Thursday 8am – 7pm
Friday 8am – 5pm

Sundays – Available by request for special cases and dental emergencies