What is the iTero Element Scanner?
When it comes to many different dental treatments and procedures, your dentist will need to have a detailed model of your teeth and gums (cast record). In the past, this process entailed messy impressions and expensive lab models in order to give a rendering of your mouth. The process was often uncomfortable or had adverse side effects for patients such as gagging. Today, however, the latest in technology allows us to recreate a 3D rendering of the teeth and gums using non-invasive, radiation-free scanning in under 5 minutes. Dr. Chern uses the iTero Element Scanner in her Manhattan practice to enhance your dental treatment experience so you're comfortable and worry-free. The iTero Element is a type of intraoral scanner which provides a detailed rendering of your teeth and is also an excellent educational tool.
Dr. Chern was friendly, professional, and efficient. She spent a lot of time with me and my teeth and took time to answer my questions thoughtfully. What a wonderful trip to the dentist!
-Jason K
The iTero Element Scanner is an advanced dental technology that provides a more accurate model of the teeth and oral tissues.
The iTero Element Scanner produces 3D renderings of the teeth and gum tissue with a quick and easy appointment. It can be used for a variety of treatments, including:
Crown fabrication
Dental implant impressions
Veneers fabrication
Restorative dentistry
Nightguard fabrication
Time Lapse capability to track recession and enamel wear
Invisalign simulation ability in under 1 minute
5D technology to monitor potential cavities
Benefits of the iTero Element Scanner
Radiation-Free Treatment
With this new technology, there's no need to worry about radiation that comes with other options like x-rays. It instead uses laser energy to map out your teeth and oral tissue, letting Dr. Chern see an immediate topographical image of your mouth.
No Impressions Needed
Impressions can be uncomfortable at best. The iTero Element Scanner eliminates the need for messy, unpleasant impressions. There's no need to re-take impressions, either, since the iTero Element Scanner produces extremely accurate results. Many patients prefer the iTero Element scanning process because they can avoid the mess, discomfort, or gagging caused by traditional methods of making models of the teeth.
Fast Results
With traditional impressions, it can take quite a few extra steps to create appliances like Invisalign and nightguard models. The iTero Element Scanner produces immediate results that can be used to fabricate your treatment devices. The system works seamlessly with other dental technologies, including Invisalign.
Meet with Dr. Chern & Her Manhattan Team
To learn more about iTero Element Scanner in Manhattan and your treatment options, contact our office for an appointment by calling or filling out our online form. Dr. Inna Chern and her team will personally work with you to plan your best treatment options and restore the function and beauty of your smile.
The iTero Element Scanner Treatment Process and What to Expect
The iTero Element scanner uses a small handpiece that Dr. Chern directs at your teeth and gums to collect imaging data. This data is then processed and visualized by the iTero Element machine, creating detailed 3D models of your teeth and gums. Unlike other systems, Dr. Chern can move the handpiece along with the teeth and gums as necessary without interrupting the imaging. This process is fast, safe, and doesn't cause discomfort, mess, or gagging, like traditional impressions or x-rays. Following your iTero Element scan, Dr. Chern can use the images and models to inform other procedures, such as Invisalign, dental implants or bridges, crowns, restorations, and more. Afterward, you can return home without side effects.
What Makes Our Office the Right Fit for Your Dental Needs?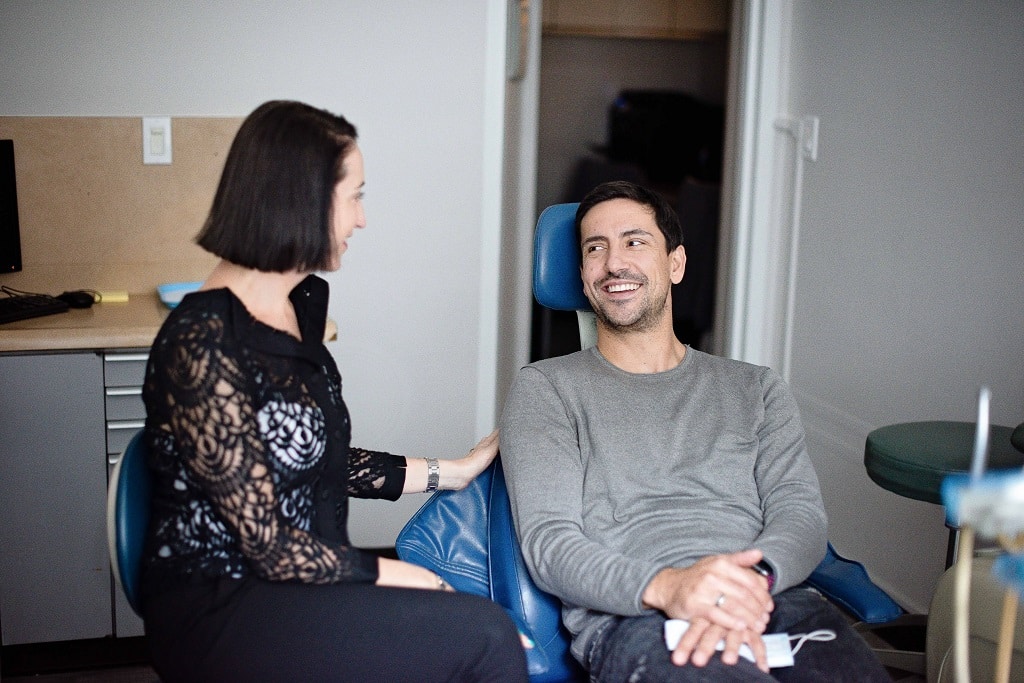 Personalized Care
We never take a one-size-fits-all approach to your oral health. Dr. Chern will evaluate your teeth and gums, working closely with our team to create a custom solution.
Comfortable Office
Our bright and modern Midtown East Manhattan office was designed with you in mind. Enjoy a calming atmosphere and comfortable amenities to help you feel at ease.
Health-First Approach
New York General Dentistry uses modern techniques and equipment to ensure your treatment is a success.
Let's Brighten Your Smile!
New York General Dentistry is always welcoming new patients to our Midtown East dentist office.
Our New York City Office
Midtown East Manhattan
133 East 58th St., ste 409
New York, NY 10022
Get Directions
Hours:
Monday 8am – 7pm
Tuesday 8am – 5pm
Wednesday 8am – 5pm
Thursday 8am – 7pm
Friday 8am – 5pm

Sundays – Available by request for special cases and dental emergencies
Patient Testimonial
A Confident Smile: Empowering Patients with Veneers