Even with the best preventive dentistry measures, sometimes oral surgery is the best option. When oral surgery is required, New York General Dentistry is here to take excellent care of you.
Whether it's removing wisdom teeth, restoring a tooth suffering from extensive decay, or helping you recover from gum disease, we're here to help. Our board-certified dental specialists and oral surgeons provide a variety of oral and maxillofacial surgery procedures and the highest quality of care to relieve pain and restore your health. All surgery procedures can be performed in our state-of-the-art New York dental office.
With an emphasis on comfort, precise results, and easy recovery, our team works hand-in-hand with you to ensure your dental surgery procedure is as stress-free as possible.
"Dr. Inna is great! She is very calm, professional and takes the time to explain any question. I highly recommend her to anyone looking for a dentist!"
-Alex U
Types of Oral Surgery
Maxillofacial Surgery
Maxillofacial surgery is focused on the jaw and lower facial regions. This type of surgery is usually recommended by Dr. Chern if you have a misaligned jaw that causes issues with chewing or speaking. Additionally, this type of surgery can help alleviate TMJ disorders, relieving facial pain, headaches, and other symptoms of TMJ. This surgery can not only help your comfort, lifestyle, and oral health but can also improve your cosmetic appearance and function.
Tooth Extraction
A common procedure performed by oral surgeons is tooth extraction. Extractions are usually necessary for resolving extensive decay, trauma, or overcrowding in the mouth. Removing diseased tissue restores the mouth to health and function and prevents further concerns from developing in the teeth or other oral tissues. Often, tooth extraction is performed in tandem with restorative treatments like implants or bridges to make sure your smile remains complete and you don't experience negative side effects from gaps in your smile.
Implants
Dental implants are usually used to replace missing teeth. They work by placing a socket in the jawbone where a rod can be attached to support a fabricated tooth or bridge. The process is often performed under local anesthesia and requires several months of healing prior to final crown placement. Dental implants can restore your oral function and fill in missing gaps where teeth were lost or extracted.
Meet With Dr. Chern &
Her Manhattan Team
To learn more about Oral Surgery in Manhattan and your treatment options, contact our office for an appointment by calling or filling out our online form. Dr. Inna Chern and her team will personally work with you to plan your best treatment options and restore the function and beauty of your smile.
Wisdom Teeth Removal
Although some people don't experience any problems with their wisdom teeth, many people need them removed at some point. This is because they can cause concerns like crowding, shifting, problems with your bite, or even discomfort if the wisdom teeth aren't removed within the right timeframe.
Bone Grafting
Bone grafting is a minor surgery where bone material from elsewhere on your body (or from another source) is deposited into the jaw to combat bone loss. Bone loss usually happens as a result of decay, but it may also be necessary to perform a bone grafting procedure onto the jaw in order to place implants.
Crown Lengthening
This type of oral surgery is used to expose more of the tooth structure by reshaping the gum and bone tissue. This can have a lot of benefits including cosmetic (to address a gummy smile) or for certain restorative procedures.
Sedation FAQ's
Are you awake during IV sedation?
Can I be sedated for tooth extraction?
Can you eat and drink before dental sedation?
Can you request to be sedated at the dentist?
Do I need sedation for tooth extraction?
Does sedation dentistry cost more?
Can you feel anything under sedation?
How does sedation dentistry work?
Is dental IV sedation safe?
How long after sedation can you drive?
How long does dental sedation last?
Is dental sedation safe?
What are the side effects of oral sedation?
How long does it take conscious sedation to wear off?
Is conscious sedation safer than general anesthesia?
What drugs are used for sedation?
What is minimal sedation?
What kind of sedation is used for tooth extraction?
What sedation is used for dentistry?
What can I expect after sedation dentistry?
What should I do before dental sedation?
Will I feel any pain with dental sedation?
Why no food or drink before IV sedation?
The Oral Surgery Process and What to Expect
Your First Appointment (30-45 minutes)
Dr. Chern will speak with you during a consultation to discuss your oral surgery options in Midtown. A surgical treatment plan will be formulated, and our team will coordinate your subsequent appointments. We are partnered with experienced oral surgical specialists all around New York and can ensure you receive consistent and high-quality care.
Your Surgical Appointment (60-90 minutes)
Your oral surgeon will make sure you know what to expect during your surgery. Most oral surgeries are performed using a local anesthetic or IV sedation, meaning you'll be comfortable and relaxed throughout. You'll receive detailed aftercare instructions to follow, as well as what to expect from follow-up with your oral surgeon or our office. Your oral surgeon will coordinate any relevant information with us as well so that we can keep track of your treatment.
Your Follow-Up Appointment (15-30 minutes)
As you recover, it's important to keep an eye on your progress and take the right steps for the next part of your treatment plan, whether this includes restorative devices or further care from Dr. Chern. We'll make sure you know whether to come back for another follow-up and can help you schedule accordingly.
Caring for Your Oral Surgery Results
Your oral surgeon will provide detailed instructions to follow to ensure a successful recovery. When it comes to maintaining your results for the long term, make sure to follow these steps:
Eat a healthy diet (with moderate amounts of sweets and soft drinks)
See your board-certified dentist regularly for check-ups and hygiene appointments (every 4-6 months)
Brush your teeth twice daily for 2 minutes with a soft or electric brush
Floss every day or use a water flosser (Waterpik)
What Makes Our Office the Right Fit for Your Dental Needs?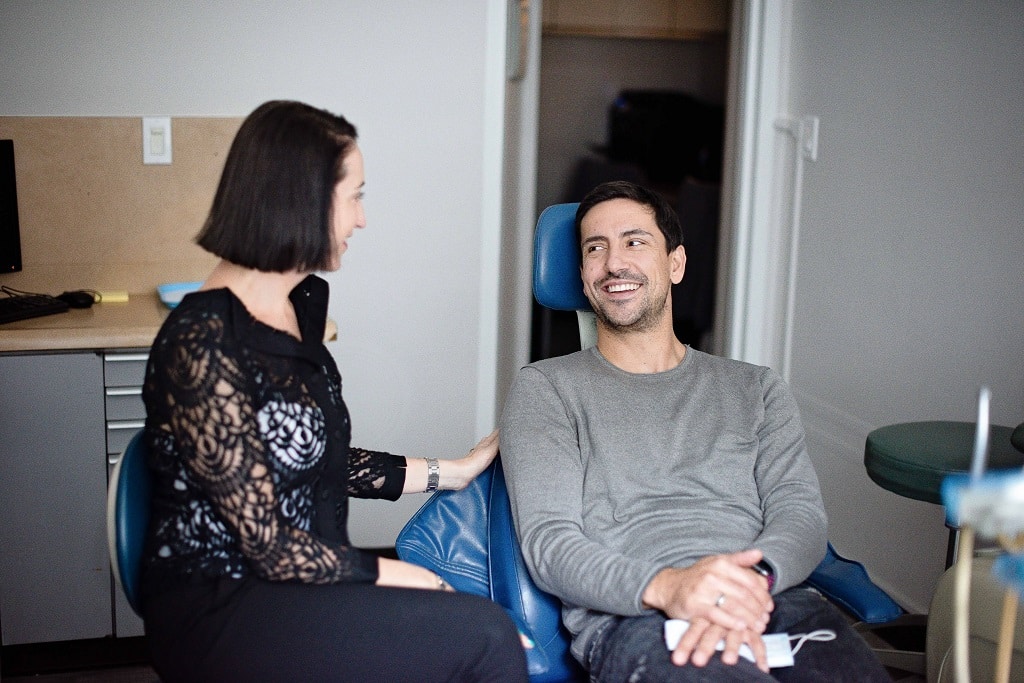 Personalized Care
We never take a one-size-fits-all approach to your oral health. Dr. Chern will evaluate your teeth and gums, working closely with our team to create a custom solution.
Comfortable Office
Our bright and modern Midtown East Manhattan office was designed with you in mind. Enjoy a calming atmosphere and comfortable amenities to help you feel at ease.
Health-First Approach
New York General Dentistry uses modern techniques and equipment to ensure your treatment is a success.
Let's Brighten Your Smile!
New York General Dentistry is always welcoming new patients to our Midtown East dentist office.
Our New York City Office
Midtown East Manhattan
133 East 58th St., ste 409
New York, NY 10022
Get Directions
Hours:
Monday 8am – 7pm
Tuesday 8am – 5pm
Wednesday 8am – 5pm
Thursday 8am – 7pm
Friday 8am – 5pm

Sundays – Available by request for special cases and dental emergencies