Are you are experiencing bleeding gums or gums that feel swollen or irritated? Many people may think that these symptoms are "normal" or are a one-time result of brushing or flossing too vigorously, but frequent issues with bleeding can be signs of a bigger issue with your overall health.
Swollen, irritated, or bleeding gums can be caused by a number of factors but may be a sign that your oral health is suffering. If you experience bleeding gums regularly, Dr. Inna Chern and her team can help.
"Dr. Churn is accomplished, caring, and pleasant. She went well above and beyond! She worked late when I had an emergency with a crack with some old bridgework. I highly recommend her!"
-Daniel S
Causes of Bleeding Gums
There are various possible causes of bleeding gums, including the following.
Brushing Too Hard
It's possible to brush too vigorously, causing your gums to bleed. To avoid this, it is recommended that individuals use a soft-bristle toothbrush. Hard-bristle toothbrushes can be too irritating and cause irritation and bleeding. Flossing roughly may also cause the gums to bleed.
Gingivitis and Periodontitis
While gingivitis is a mild form of gum disease, periodontitis is a more serious form. Gum disease is an infection that damages the soft tissue (gums) which can eventually destroy the bone that supports the teeth if left untreated. Gum disease often begins with plaque buildup on the teeth.
Medications and Medical Conditions
Certain medications like blood thinners, NSAIDs, birth control pills, and some types of blood pressure medications can make your gums more prone to bleeding. Additionally, certain medical conditions like vitamin deficiencies or bleeding disorders can cause bleeding gums.
Oral Appliances
If you use dentures or mouth guards that don't fit properly, your gums can become irritated and bleed. This is more common when oral appliances fit too tightly. In this case, it's best to see your dentist to have a new appliance created that fits properly.
Treatment for Bleeding Gums and What to Expect
At New York General Dentistry, we offer treatments to stop bleeding gums in Midtown Manhattan. Dr. Chern will conduct a comprehensive periodontal evaluation to help you understand your periodontal health, as well as prescribe a dental care regimen and treatment plan to help you achieve healthy gums once more.
In-Office Treatment
Dr. Inna Chern will assess your oral health and determine the possible causes of bleeding gums. She'll take time to learn about your medical history, lifestyle habits, and oral appliances to get a complete picture. In some cases, she may be able to help you control plaque and tartar buildup by performing professional cleanings and optimizing your at-home care. Since there are a variety of causes of bleeding gums, Dr. Chern will take the time to explore them and how you can achieve relief.
At-Home Treatment
At home, you can manage your bleeding gums according to Dr. Chern's instructions. This might include using a small ice pack or ice cube to manage swelling and irritation. You can also use a saltwater rinse of ½ tsp of salt to 8oz of warm water. Finally, you can help stem bleeding using clean, damp gauze.
Meet With Dr. Chern &
Her Manhattan Team
To learn more about bleeding gums in Manhattan and your treatment options, contact our office for an appointment by calling or filling out our online form. Dr. Inna Chern and her team will personally work with you to plan your best treatment options and restore the function and beauty of your smile.
Bleeding Gums Outcomes
Dr. Chern will work with you to create a long-term treatment plan based on the possible causes. However, you can help prevent bleeding gums by switching to a soft-bristle toothbrush, using a water flosser, avoiding smoking, eating a varied diet with colorful fruits and veggies, and returning for a check-up at least twice a year. Dr. Chern will help you understand ways to prevent bleeding gums so you can enjoy a healthy, functional mouth.
What Makes Our Office the Right Fit for Your Dental Needs?
Personalized Care
Dr. Chern will take the time to understand your specific needs. There's no one-size-fits-all approach to bleeding gums, and we'll work closely with you on the treatment that fits you best.
Comfortable Office
Our Midtown East office is bright, modern, and comfortable – our goal is to ensure you have a positive experience in our calm and relaxing atmosphere.
Health-First Approach
Bleeding gums can be indicative of something more serious. We use the most modern technologies and equipment to optimize your health and keep you comfortable.
What Makes Our Office the Right Fit for Your Dental Needs?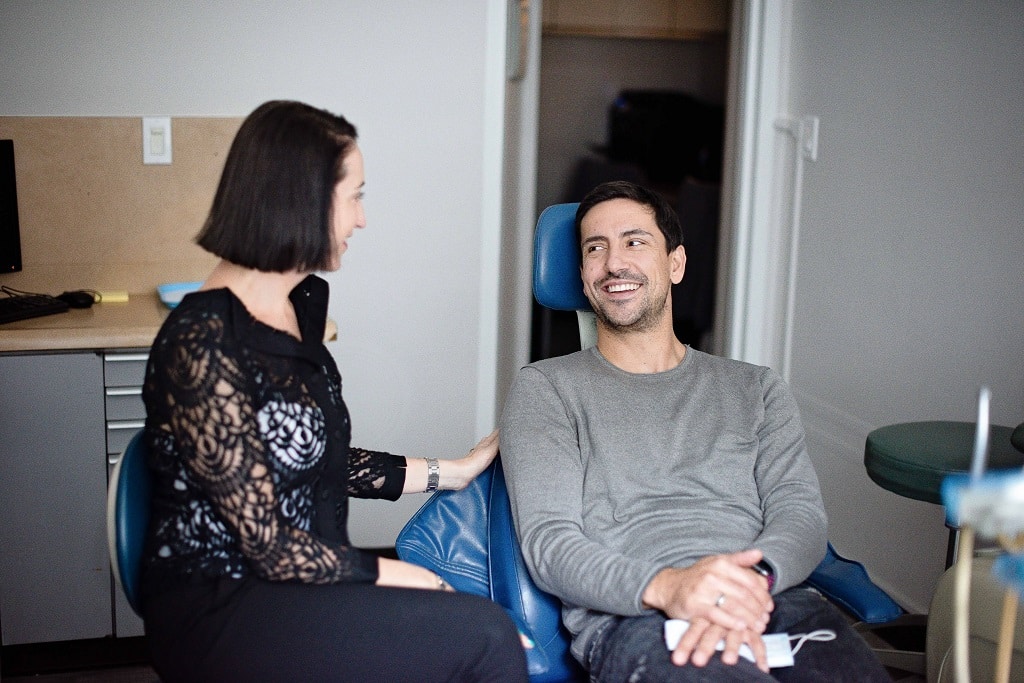 Personalized Care
We never take a one-size-fits-all approach to your oral health. Dr. Chern will evaluate your teeth and gums, working closely with our team to create a custom solution.
Comfortable Office
Our bright and modern Midtown East Manhattan office was designed with you in mind. Enjoy a calming atmosphere and comfortable amenities to help you feel at ease.
Health-First Approach
New York General Dentistry uses modern techniques and equipment to ensure your treatment is a success.
Let's Brighten Your Smile!
New York General Dentistry is always welcoming new patients to our Midtown East dentist office.
Our New York City Office
Midtown East Manhattan
133 East 58th St., ste 409
New York, NY 10022
Get Directions
Hours:
Monday 8am – 7pm
Tuesday 8am – 5pm
Wednesday 8am – 5pm
Thursday 8am – 7pm
Friday 8am – 5pm

Sundays – Available by request for special cases and dental emergencies