At our Manhattan practice, we believe in the power of prevention. Healthy teeth help to maintain a healthy body, so keeping your teeth and gums healthy can set you up for a lifetime of a healthy, happy mouth.
Every patient is unique, which is why we work hard to make sure your experiences at our office are positive from the moment you walk in. We offer a range of general dentistry treatment options and focus on creating an environment of unsurpassed customer service from the moment you join our dental care family.
Our goals are to empower and educate our patients about all their treatment options and provide the same level of care as we would to our own family members. We hope you feel exceptionally taken care of by our team at New York General Dentistry.
What is General Dentistry?
Your dentist is typically the healthcare provider you see most consistently. Other healthcare providers, like your regular physician, are usually only seen when a problem or question arises– or during your yearly checkup. General dentists are seen by their patients every few months because their services are uniquely oriented toward preventing disease rather than responding to it.
General and cosmetic dentistry usually involve the teeth, gums, and maxillofacial (the jaw and face) region. Dentistry and oral health go hand-in-hand with overall health since having healthy teeth and gums can prevent diabetes, heart disease, and other preventable conditions. General dental services prevent, diagnose, and treat a wide variety of diseases, conditions, and disorders, some of which aren't even specific to your mouth or oral health. If left untreated, oral disease progression can result in pain, loss of teeth, and expensive treatments to restore function. It can also negatively affect your overall health.
Dr. Inna Chern places a strong emphasis on oral and overall health at our Manhattan practice by taking into account factors like your health, fitness level, and sleep habits. During a routine visit to Dr. Chern in New York City, she will complete thorough health history, an examination of your mouth and jaw joint (TMJ), perform a professional dental cleaning, and discuss various holistic and conventional ways to maintain your oral and overall health.
Patient Testimonial
Delivering Pain-Free Veneers with a Smile
What Do General Dentists Do?
At New York General Dentistry in Midtown Manhattan, our team focuses on all aspects of your oral health. Unlike specialists who focus on a particular aspect of a dental practice, general dentists offer numerous services that are vital to your continual health and integral to creating a beautiful smile. General dentistry services include:
Preventative Dentistry: These services are meant to stop diseases or infections before they start. Regular dental exams and professional cleanings are the cornerstones of preventative treatment. Our team can provide instructions on how to improve your at-home oral care and can also recommend preventative treatments such as sealants and fluoride treatments. We help our patients lead a healthy lifestyle through an integrative approach that optimizes your oral health for years to come.
Restorative Dentistry: If we find any concerns, our team will work with you and ensure quality dental care. One of our most common restoration techniques involves removing tooth decay and placing a composite filling or ceramic restoration such as a crown or dental implants. We offer prompt treatment for dental trauma as well as diagnosis and treatment of varying degrees of periodontal (gum) disease.
Cosmetic Dentistry: We can address your aesthetic concerns and offer various treatments to create your ideal smile. Our cosmetic treatments can help you achieve a confident smile through services such as teeth whitening, composite or porcelain veneers, and laser soft tissue corrective therapy.
Overall Health: Our Midtown general dentistry practice focuses on your health. We like to think of our practice philosophy as a dental office with a medical twist. The truth is that untreated oral infections can lead to diabetes, increased incidence of cardiovascular disease, and even complications during pregnancy. Dr. Inna Chern is trained to identify these issues as well as other potential problems such as TMJ disorders and sleep apnea. Both can be treated with a range of dental appliances and therapies. Dr. Chern also offers nutritional counseling and many natural remedies to use in conjunction with more conventional dental therapies.
General Dentistry FAQs
How do I choose a good dentist?
What do you call a dental surgeon?
Is an endodontist a dentist?
What is a general dentist?
Is general dentistry a specialty?
What are the different types of dentistry?
What is an endodontist vs oral surgeon?
What is Endodontics Dentistry?
What is the highest degree in dentistry?
What makes a great dentist?
What skills are needed for a dentist?
What should I avoid before going to the dentist?
Can I wear makeup or lipstick to the dentist?
How do I know if I've found a good dentist?
What are the main duties of a dentist?
How often should I get a general dental cleaning?
What is the meaning of general dentistry?
What is the title for general dentist?
What Qualifications Do General Dentists Have?
After completing undergraduate education, general dentists go to a four-year accredited dental school where they learn about medicine, dentistry, and clinical practice. A general dentist must fulfill requirements provided by the state licensing boards and often complete a post-graduate residency program in a hospital or university setting.
"Seriously the best dentist I have been to in my life. She has the best demeanor and calmed all anxieties I had about the dental work. She is so kind and does such a great job! I can't say enough good things! Wish I could give more then 5 stars!"

– Jenna F.


General Dentistry Services in Midtown Manhattan
Exams & Cleaning
Dental exams and professional cleanings are part of a comprehensive dental visit. Dr. Chern will start by checking for cavities and evaluating your gum health. She will also examine your face, neck, and mouth for any abnormalities that can be indicative of a health concern like oral cancer or TMJ disorders. She will assess your airway to rule out potential apnea issues and obstructions. A dental exam may also include X-rays and photographs and is followed by a thorough cleaning to remove plaque and tartar.
Pediatric Dentistry
Pediatric dentistry is dedicated to oral health and care for children, from infancy through their teenage years. We treat children's teeth, gums, and mouth throughout the various stages of their development so that they can enjoy exceptional dental care and establish good habits for a lifetime. The American Pediatric Association recommends visits as early as 1 year of age.
Composite Fillings
Composite fillings are a common treatment that helps protect teeth from dangerous bacteria. The filling is a tooth-colored plastic and glass mixture that is placed in an easy, in-office procedure. Fillings can restore decayed teeth and protect them from future infections, as well as improve your aesthetics and function.
Oral Surgery
Oral surgery involves removing unrestorable teeth and wisdom teeth, as well as periodontal surgery, implant placement, biopsies, and laser minimally invasive procedures. These are usually paired with restorative methods to complete your smile and optimize your oral health.
TMJ Treatments
The temporomandibular joint (TMJ) is responsible for moving your jaw and mouth. This joint can become inflamed or deteriorate over time and cause pain. TMJ problems can lead to jaw pain, lockjaw, chronic headaches, teeth grinding, and even an inability to eat properly. Our team can treat TMJ issues through appliance therapy, functional analysis, and Botox therapy using the latest in techniques and dental technology.
Meet With Dr. Chern &
Her Manhattan Team
General dentistry comes with a lot of benefits and can help you optimize your oral health for a lifetime. To meet with our team and learn more about your options, we invite you to contact our office by calling or filling out our online form.
What Makes Our Office the Right Fit for Your Dental Needs?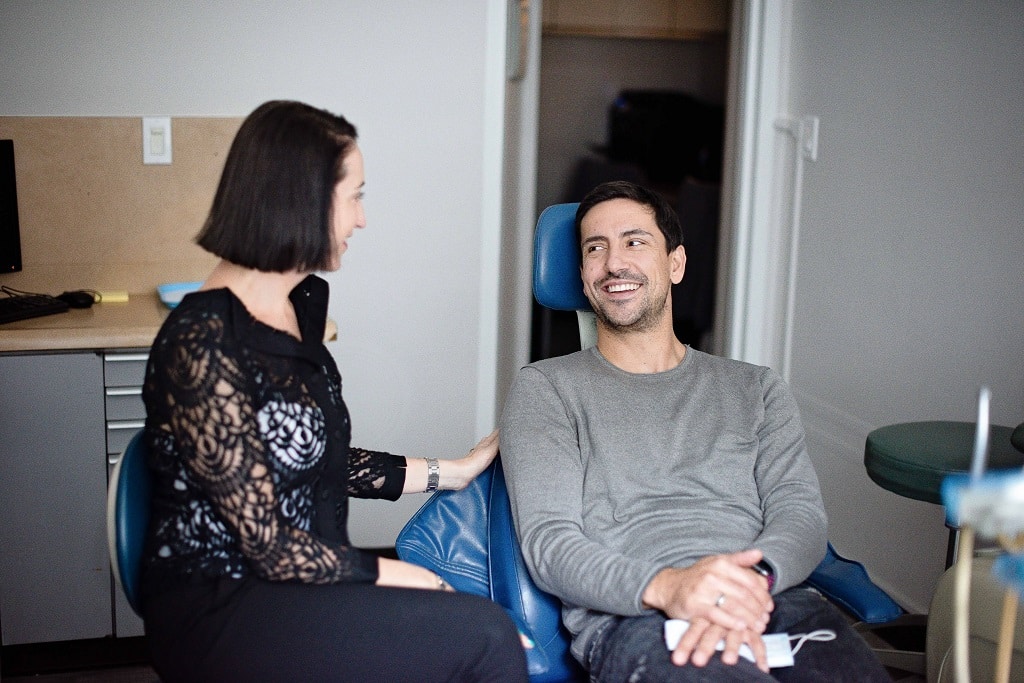 Personalized Care
We never take a one-size-fits-all approach to your oral health. Dr. Chern will evaluate your teeth and gums, working closely with our team to create a custom solution.
Comfortable Office
Our bright and modern Midtown East Manhattan office was designed with you in mind. Enjoy a calming atmosphere and comfortable amenities to help you feel at ease.
Health-First Approach
New York General Dentistry uses modern techniques and equipment to ensure your treatment is a success.
Let's Brighten Your Smile!
New York General Dentistry is always welcoming new patients to our Midtown East dentist office.
Our New York City Office
Midtown East Manhattan
133 East 58th St., ste 409
New York, NY 10022
Get Directions
Hours:
Monday 8am – 7pm
Tuesday 8am – 5pm
Wednesday 8am – 5pm
Thursday 8am – 7pm
Friday 8am – 5pm

Sundays – Available by request for special cases and dental emergencies