What is Full Mouth Rehabilitation and How Can It Help Restore My Smile?
Missing or damaged teeth can typically be restored with devices like implants or bridges. However, sometimes it extends beyond just a few teeth and your smile requires more extensive restoration. Although it's always best to try and save as many natural teeth as possible, your dentist may recommend "starting from scratch" with full mouth rehabilitation.
Full mouth rehabilitation is an extensive process of rebuilding the teeth and mouth for a complete smile in the event of significant trauma or disease. It means replacing most or all of the teeth with restorative devices to fully reconstruct the smile so that it functions just like normal. Some of the devices and therapies used during full mouth rehabilitation might include:
A similar procedure is sometimes called the "smile makeover" or smile design, but full mouth rehabilitation is a restorative approach to your smile that prioritizes your mouth's function and health. You may get cosmetic benefits from full mouth rehabilitation, however, when you achieve a complete and healthy smile.
Full mouth rehabilitation can seem daunting, but it's worth the journey. At New York General Dentistry, our team is equipped to help you through the process and ensure you can live your best life with a complete and healthy smile. Dr. Inna Chern is one of the most sought-after dentists in Manhattan and can help you transform your smile and your confidence.
"Dr. Chern is just wonderful. The best dentist I've ever had! She is light-handed, deft, and quick. Just about painless. If visiting a dentist can be close to a form of pleasure, she's as close as you can get."
-Ellen C
Benefits of Full Mouth Rehabilitation
Improved Oral Health
There are many negative ways that an incomplete smile can affect your health, from aches and pains to shifting teeth to a greater chance of infection. By replacing missing teeth and addressing decay and disease, you can prevent many uncomfortable symptoms and risks to your overall health.
Reduced Pain
An incomplete smile can come with many types of pain, whether from decay or crowding, or a misaligned jaw. Full mouth rehabilitation can ensure that your smile works and feels like it should, reducing chronic pain.
Greater Confidence
Missing or damaged teeth can make it difficult to feel comfortable smiling. With a complete, healthy smile, you don't need to worry about the way you look during your best moments.
Meet With Dr. Inna Chern & Her Manhattan Team
To learn more about Full Mouth Rehabilitation in Manhattan and your treatment options, contact our office for an appointment by calling or filling out our online form. Dr. Inna Chern and her team will personally work with you to plan your best treatment options and restore the function and beauty of your smile.
The Full Mouth Rehabilitation Process and What to Expect
Full mouth rehabilitation is a multi-step process and can take several months as your mouth heals and dental appliances are fabricated. However, full mouth rehabilitation looks different for everyone, and your process will be customized to your unique needs. Dr. Inna Chern will make sure you understand the best options for your smile goals using the best technologies available in Manhattan.
Your First Appointment
During this appointment, you'll undergo a full assessment of your current smile, assessing factors like your tooth structure, gum tissue, bone density, bite stability, and your smile's overall look.
You'll discuss your dental health history and Dr. Chern will take any necessary x-rays or photographs to begin planning your treatment process.
You'll spend significant time with Dr. Chern discussing your smile goals and creating the right treatment plan for your needs, including learning more about the timeline, cost, and what you can expect.
Your Second Appointment
You'll return to begin your treatment process which typically begins with removing or rehabilitating your existing teeth. This ensures you have a healthy foundation on which to build your new smile.
Dr. Inna Chern can create a detailed model of your teeth using our iTero Element Scanner for use in fabricating new restorative devices. This means there's no need for impressions or molds.
Your Third Appointment
Once your mouth is healed and your appliances are ready, they can be installed at our comfortable Midtown East office. Our team will take every step to ensure you're relaxed and confident in your treatment process.
This installation process may need to be performed more than once with periodic recovery times in between appointments. You'll receive a full schedule of when to return for your next appointments.
Your Final Appointment
Once your new smile is complete, Dr. Chern will check your bite, speech and ensure that your mouth feels comfortable and natural to you. She'll also go over maintenance steps and how to care for your new smile so you can get the most long-term use out of it.
Caring for Your New Smile
Full mouth rehabilitation can help keep your smile healthy and strong for many years to come. However, you should still care for your new smile like you would your natural teeth. Some care steps to follow include:
Eat a healthy, varied diet and enjoy sweets and soft drinks in moderation
Visit your dentist for a checkup every 4-6 months
Brush your teeth twice daily using a soft-bristled or electric toothbrush
Floss daily with string floss or a water flosser
Keep your removable appliances clean with a designated cleaning agent
Avoid staining foods and drinks like coffee, black tea, or red wine
What Makes Our Office the Right Fit for Your Dental Needs?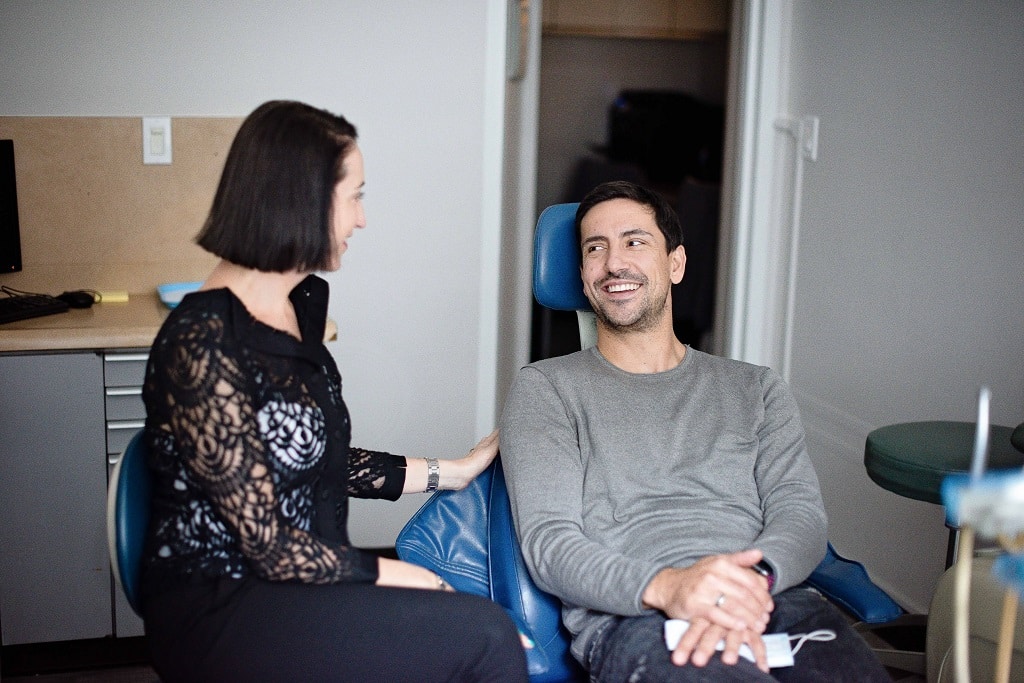 Personalized Care
We never take a one-size-fits-all approach to your oral health. Dr. Chern will evaluate your teeth and gums, working closely with our team to create a custom solution.
Comfortable Office
Our bright and modern Midtown East Manhattan office was designed with you in mind. Enjoy a calming atmosphere and comfortable amenities to help you feel at ease.
Health-First Approach
New York General Dentistry uses modern techniques and equipment to ensure your treatment is a success.
Let's Brighten Your Smile!
New York General Dentistry is always welcoming new patients to our Midtown East dentist office.
Our New York City Office
Midtown East Manhattan
133 East 58th St., ste 409
New York, NY 10022
Get Directions
Hours:
Monday 8am – 7pm
Tuesday 8am – 5pm
Wednesday 8am – 5pm
Thursday 8am – 7pm
Friday 8am – 5pm

Sundays – Available by request for special cases and dental emergencies