What Are Porcelain Crowns and How Can They Improve My Smile?
Teeth can sometimes become damaged due to fractures and extensive decay. Unfortunately, these issues are a natural part of the aging process of teeth, but there are some comprehensive ways to protect and restore your teeth with the help of your dentist. In Manhattan, Dr. Chern offers comprehensive restoration methods to help damaged teeth and keep your smile healthy for the long term. In New York City, porcelain tooth crowns are among the most effective methods of restoring teeth.
When a tooth is suffering from extensive decay or fractures, a dental crown is the best option for protecting and restoring your health and your smile. A dental crown is a fixed prosthetic device that is cemented to the entirety of the tooth and sits along the base of the gumline. Dental crowns are sculpted to blend in perfectly with the surrounding teeth by closely replicating the look and feel of tooth enamel. At our Manhattan practice, we provide custom-made porcelain and metal crowns to patients looking for the best restorative options to support and improve function and aesthetics. Your dental crown will look (and feel) like your tooth, and the best part is that you won't even know it's there!
There are a few different materials available for crowns, but porcelain is one of the most popular options for its natural look that most closely resembles real teeth. Other options can include metal, gold, or porcelain fused to metal, all of which offer different benefits like durability and biocompatibility. One type may be better than the other simply based on the tooth's location (front vs. back), tooth structure, and periodontal condition so Dr. Chern will discuss your best options. For people seeking a restorative solution to a missing tooth (or teeth), dental implants or a dental bridge will be a better solution than dental crowns.
Benefits of Porcelain Crowns
Restore and Protect Teeth
Porcelain crowns can be used to entirely cover (cap) a damaged tooth. This can be a good option in cases of fractured teeth, broken teeth, or weakened teeth due to extensive tooth decay. In this case, crowns can both protect the teeth from further damage or decay as well as restore the appearance of your smile.
Achieve Cosmetic Goals
Along with repairing and strengthening the tooth, crowns can also be used to improve the aesthetic appearance of teeth. If a tooth is badly shaped or discolored, then a crown can help restore the tooth to a more natural and uniform appearance. With a tooth restoration procedure in our Midtown East dental office, your crown will likely be undetectable when you smile.
Support Other Dental Work
Crowns can be used to supplement other dental techniques and devices like porcelain veneers or implants and may even be the first step in your treatment plan that includes other restorative options. Additionally, they can be used to help cover large fillings or root canals to both protect the underlying teeth and preserve their appearance.
"Dr. Chern is the best. She does great work and really cares about her patients. I would highly recommend her to anyone who is looking for a top-quality dentist."
-Francisco O
Who is a Candidate for Porcelain Crowns Manhattan?
Virtually any dental patient who is suffering from a broken, cracked, or fractured tooth is a good candidate for a porcelain crown. They are suitable solutions for any patient suffering from missing teeth or tooth decay. Dental crowns are often used to support a tooth that required root canal therapy or a large dental filling, which can each result in a weakened tooth that may be susceptible to further damage or decay otherwise. Patients must understand that this restorative work must be complete before the crown is placed, however, so that decay does not progress below the crown. Finally, porcelain dental crowns may be placed for patients who wish to address cosmetic dental issues, as all-porcelain crowns are custom-made according to the precise size, shape, and color needs. Dr. Chern will determine whether a porcelain crown is right for you after an appointment at her New York office.
Meet With Dr. Chern &
Her Manhattan Team
To learn more about Porcelain Crowns in Manhattan and your treatment options, contact our office for an appointment by calling or filling out our online form. Dr. Inna Chern and her team will personally work with you to plan your best treatment options and restore the function and beauty of your smile.
The Crown Treatment Process and What to Expect
Your First Appointment (60 minutes)
Once a dental crown is recommended, your teeth will be examined by Dr. Chern, and x-rays will be taken. The x-rays can help us check the roots of the tooth and the surrounding bone.
If the tooth can be restored by a dental crown, then placement will begin. If crowns are being used following another restorative dentistry solution, such as a root canal, Dr. Chern will first explain and complete that dental work before placing the crown.
Dr. Chern will discuss different options for materials, such as ceramic, noble metal, and porcelain. We'll also take photographs and make a preliminary model for your temporary crown by taking an impression or scan of the tooth.
Dr. Chern will gently reduce your tooth's natural size to fit the crown properly. This step includes a local anesthetic so that you're relaxed and comfortable.
The impression or scan is sent to a lab for custom fabrication of your tooth crown. Dr. Chern creates temporary crowns to restore full function while the permanent crown is being made.
Real Results
New York Genral Dentistry is committed to providing the best in dental health care and meeting your unique needs. View our gallery of incredible results!
Your Second Appointment (30-45 minutes)
Approximately 1-2 weeks later, we will have you come in for your try-on of the permanent crown.
Your temporary crown will be removed, and the crown will be placed and checked for form, fit, and function.
An x-ray to confirm the fit will be taken and the crown will be prepared for final cementation. The crown will be placed with durable cement and final care instructions will be given to you. Once complete, you can return home.
Your Follow-Up Appointment (15 minutes)
We'll schedule a 1-2 week follow-up appointment at our New York office and evaluate the look and feel of your new dental restoration. If you have any concerns with your new crown, Dr. Chern can assess how things are going and recommend the best course of action.
Porcelain Crown FAQs
Are dental crowns worth the money?
Can a crown last a lifetime?
Are Porcelain Crowns good?
Can I get a crown without a root canal?
Are zirconia crowns more expensive than porcelain?
Can porcelain crowns crack?
Which porcelain crown is best?
What is porcelain crowns front teeth?
What is better porcelain or ceramic crowns?
How strong is a porcelain crown?
What happens if my crown falls off?
How do dentists adjust crowns?
How do I keep my crown white?
How long do porcelain fused to metal crowns last?
How often do crowns need to be replaced?
Do porcelain crowns stain?
What happens if a crown is too high?
What does a crown look like on a tooth?
What causes a porcelain crown to crack?
How long does crown lengthening take to heal?
How long do porcelain crowns last?
How is a porcelain crown removed?
How do you know if you have decay under a crown?
Do dentist guarantee crowns?
Can a crown be filled?
How do you care for a porcelain crown?
Do Dental Crowns feel like real teeth?
Caring For Your Crown
Taking good care of your teeth will guarantee they stay healthy and functional for a lifetime. Additionally, taking care of your crown will help you get the most out of your investment. For the most part, caring for your dental crown involves most of the same steps that you should follow to care for your natural teeth. Follow these steps to take care of your crown for the long term:
Eat a healthy diet (cut back on sweets and soft drinks)
See your dentist regularly (every 4-6 months) for a hygiene appointment
Brush your teeth twice daily for 2 minutes with a soft or electric toothbrush
Floss every day or use a water flosser (Waterpik)
Why do crowns fall off?
Which is better zirconia or porcelain crown?
Why do I need a crown?
Which dental crown is best?
What type of crown lasts the longest?
Should I have my tooth pulled or get a crown?
What should I do if a crown falls off?
What is a crown tooth repair?
Should I get a crown or pull the tooth?
What if there is not enough tooth for a crown?
Is it painful to have a crown put on your tooth?
Is Crown better than filling?
What do dentists use to glue on crowns?
Is a crown stronger than a tooth?
Is a crown a fake tooth?
How many times can you replace crowns?
How long do zirconia crowns last?
How strong is a porcelain crown?
How often do crowns fall out?
How long do dental crowns last?
How long after a crown is cemented can I eat?
How does a dentist remove a crown?
How do I keep my crown white?
How do you replace a crown?
How do you clean under a crown?
Does Sensodyne work on crowns?
How can you tell if you have tooth decay under a crown?
Do porcelain crowns break?
How do they fix a cavity under a crown?
Do crowns on front teeth look natural?
Can you pull a crown off?
Can you eat normally with a crown?
Do crowns last longer than veneers?
Do all root canals need a crown?
Can you replace a crown with another crown?
Can I get a cavity under a crown?
Can I get a crown without a root canal?
Can crowns last 30 years?
Can I floss around my crown?
Can front teeth be crowned?
Can food get trapped under a crown?
Can flossing loosen a crown?
Are crowns better than veneers?
Are zirconia crowns more expensive than porcelain?
Can a crown last a lifetime?
How long does it take to fit a crown?
What Makes Our Office the Right Fit for Your Dental Needs?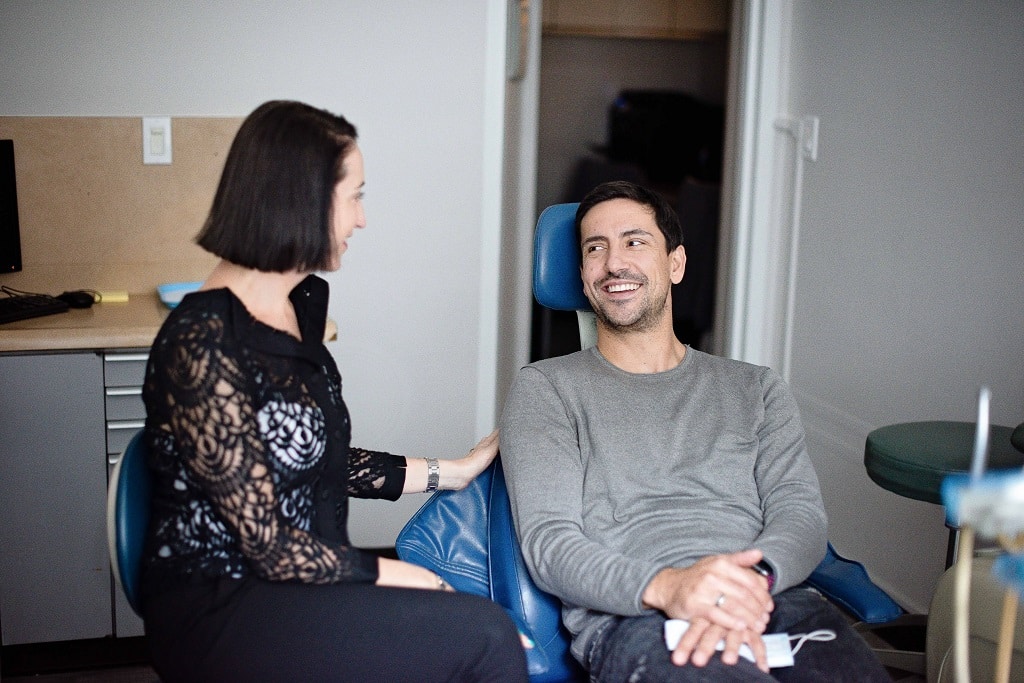 Personalized Care
We never take a one-size-fits-all approach to your oral health. Dr. Chern will evaluate your teeth and gums, working closely with our team to create a custom solution.
Comfortable Office
Our bright and modern Midtown East Manhattan office was designed with you in mind. Enjoy a calming atmosphere and comfortable amenities to help you feel at ease.
Health-First Approach
New York General Dentistry uses modern techniques and equipment to ensure your treatment is a success.
Let's Brighten Your Smile!
New York General Dentistry is always welcoming new patients to our Midtown East dentist office.
Our New York City Office
Midtown East Manhattan
133 East 58th St., ste 409
New York, NY 10022
Get Directions
Hours:
Monday 8am – 7pm
Tuesday 8am – 5pm
Wednesday 8am – 5pm
Thursday 8am – 7pm
Friday 8am – 5pm

Sundays – Available by request for special cases and dental emergencies