What is Laser Dentistry and How Can My Dentist Help?
Needing dental surgery can be a cause for anxiety for many people. Even though many dental and surgical techniques have come a long way over the decades, it's still normal to feel some dread if your dentist recommends a procedure. Fortunately, laser technologies are one of the latest and most effective ways to perform many dental and surgical procedures by your dentist.
Laser dentistry is an innovative type of dental care that can treat numerous dental concerns. Lasers are extremely focused light beams that can efficiently and painlessly alter or remove tissue in small amounts. This is a minimally invasive option if you're in need of procedures such as cavity removal, gum surgery, periodontal therapy, biopsies, and soft tissue augmentation. Laser dentistry is extremely versatile and can be used for many different treatments and procedures, reducing discomfort, and offering precise results with little to no pain and faster recovery time.
With laser dentistry, you can enjoy effective, quick results for a variety of different concerns. Dr. Inna Chern offers soft tissue laser dentistry at our New York City dental practice, and we can work with you to create the right treatment plan for you.
"I'm always nervous going to the dentist and Dr. Chern made me feel so comfortable. She explained everything to me thoroughly and I walked away understanding and knowing exactly what's going on with my teeth. I'm so happy to have found her and look forward to future visits. Thank you, Dr. Chern!
-Alicia C
What are the Benefits of Laser Dentistry?
There are many reasons to choose laser dentistry in New York City. First, the procedure tends to be more comfortable for patients compared to dental surgery, as sutures are not required. Patients may not require anesthesia at all. It is also frequently safer, because lasers sterilize the gums, reducing the chance of infection, and less bleeding occurs during the procedure. Finally, with less damage to the gums, the healing time from laser dentistry is shorter overall. Many patients prefer the experience of laser dentistry, and many dentists prefer the technology over surgical procedures.
Am I a Candidate for Laser Dentistry?
Many patients in NYC facing dental complications, pain in a tooth or several teeth, and issues with their gums are good candidates for laser dentistry. Laser dentistry can be used for the following purposes:
Dental biopsy
Benign oral tumor removal
Reshaping the gums
Exposing wisdom teeth
Gum disease treatment
Root canal infection treatment
Canker sore treatment
Exposing wisdom teeth
Sleep apnea treatment
Treating damaged nerves
To learn whether laser dentistry is right for you, make an appointment with Dr. Chern in New York, NY.
Meet with Dr. Chern & Her Manhattan Team
To learn more about Laser Dentistry in Manhattan and your treatment options, contact our office for an appointment by calling or filling out our online form. Dr. Inna Chern and her team will personally work with you to plan your best treatment options and restore the function and beauty of your smile.
Types of Laser Dentistry
Hard Tissue Lasers
This type of laser is primarily used on teeth and bone. The wavelengths used in hard tissue lasers are attracted to the water and calcium phosphate particles found in the teeth. Often, this type is used to shape or prepare teeth for restorative procedures, remove tooth structure, or even repair fillings. Along with this, hard tissue lasers can detect cavities and even kill bacteria in areas of decay, as well as treating tooth sensitivity by sealing the tooth's root surfaces.
Soft Tissue Lasers
This type of laser is primarily used on gums and oral mucosa of the mouth and cheek. The wavelengths in soft tissue lasers are attracted to melatonin and hemoglobin, which are molecules found in pigmented soft tissue and blood. We utilize the SOL laser which is at the forefront of laser technology. This laser eliminates the need for a scalpel or stitches and promotes faster healing. It is highly effective and often painless, requiring no or minimal local anesthesia. Some common uses for soft tissue lasers include:
Gum augmentation (gingivectomy)
Biopsy of diseased tissue
Excess tissue removal over impacted teeth (operculectomy)
Treating receding gums and sensitivity
Treating gum disease and reducing bacteria in periodontal pockets
Aesthetic gum recontouring
Relieving tongue-ties and lip-ties (frenectomy)
Removing cankers and cold sores (aphthous ulcer and herpetic lesions)
Laser Dentistry FAQ's
Does insurance cover laser dentistry?
Does laser dentistry hurt?
How do you start a laser tip?
How is laser used in dentistry?
Is laser necessary for deep cleaning?
Is laser treatment on teeth safe?
How much does laser cavity removal cost?
How much does laser treatment for gum disease cost?
Is Laser Dentistry better?
Is laser gum treatment effective?
What is Laser root canal treatment?
What is soft tissue laser dental?
What is Solea dentistry?
What is water laser dentistry?
Why do people get their gums lasered?
What is laser dental filling?
What is biolase dentistry?
The Laser Dentistry Treatment Process and What to Expect
Your First Appointment (30 minutes)
Dr. Chern will perform a thorough exam and discuss your treatment goals and what to expect from laser dentistry. We may require x-rays to fully assess your concerns, and we can perform these right in our Manhattan location. Photographs will be taken to document your treatment process.
Once your treatment plan is created, a follow-up appointment will be made.
Your Second Appointment (30-60 minutes)
We'll make sure you feel comfortable and relaxed before we begin. Dr. Chern will apply a topical anesthetic and may administer local anesthesia to the treatment area.
Protective eyewear will be placed over your vision and SOL laser therapy will be performed. The area will be irrigated with a disinfecting solution and cleaned. Because the laser cauterizes tissue, there is no bleeding post-procedure.
Postoperative photographs will be taken and Vitamin E will be applied to the area for optimal healing.
Post-laser instructions will be given and a 1-week follow-up will be scheduled. Most laser procedures heal within 3-7 days and require no pain relievers. Occasionally, over-the-counter NSAIDs can be taken for mild discomfort or for more extensive treatments.
Any biopsies are sent to a lab for pathology and results usually come back within 10 days. You'll receive a follow-up from Dr. Chern at this point.
Your Follow-Up Appointment (15 minutes)
Dr. Chern will check how your healing is coming along and take final photographs. This allows you to compare your results and understand your options in the future. You'll also discuss any future steps you should take to maintain your results and oral health. Then, you'll be all set to resume full function and enjoy the results of your minimally invasive laser therapy. If you require a biopsy, you may need further follow-up, so Dr. Chern will discuss what to expect going forward and schedule any needed appointments.
Caring For Your Teeth After SOL Laser Treatment
Follow these care tips for a long-lasting, beautiful smile, and quick and easy recovery:
Apply Vitamin E or arnica to treated areas
Rinse with warm salt water
Eat a healthy, soft diet while the affected area heals (3-7 days)
See your dentist regularly for a follow-up as required
Brush your teeth twice daily for 2 minutes with a soft or electric toothbrush
Floss every day or use a water flosser (Waterpik)
Always clean between your teeth
What Makes Our Office the Right Fit for Your Dental Needs?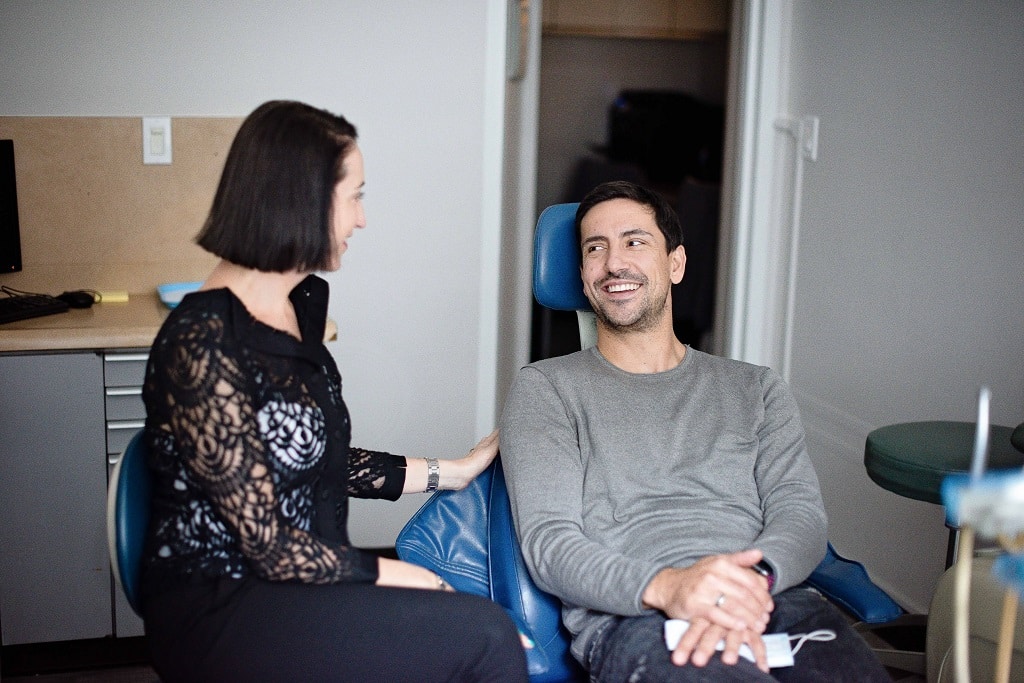 Personalized Care
We never take a one-size-fits-all approach to your oral health. Dr. Chern will evaluate your teeth and gums, working closely with our team to create a custom solution.
Comfortable Office
Our bright and modern Midtown East Manhattan office was designed with you in mind. Enjoy a calming atmosphere and comfortable amenities to help you feel at ease.
Health-First Approach
New York General Dentistry uses modern techniques and equipment to ensure your treatment is a success.
Let's Brighten Your Smile!
New York General Dentistry is always welcoming new patients to our Midtown East dentist office.
Our New York City Office
Midtown East Manhattan
133 East 58th St., ste 409
New York, NY 10022
Get Directions
Hours:
Monday 8am – 7pm
Tuesday 8am – 5pm
Wednesday 8am – 5pm
Thursday 8am – 7pm
Friday 8am – 5pm

Sundays – Available by request for special cases and dental emergencies