What is Gum Contouring and How Can My Dentist Help?
Your smile is one of the first things people see and it's important you feel confident about your smile and the appearance of your teeth. Excess gum tissue creates a "gummy smile" and can make your teeth look small or crooked if the gum line is not straight. Gum contouring will straighten the gum line and remove excess gum tissue to show off a brighter, symmetrical smile.
Gum contouring is sometimes performed with a scalpel to cut away excess tissue, but a laser can also be used to minimize bleeding, risk of infection, and recovery time. Dr. Inna Chern will discuss your options for gum contouring to develop the best treatment plan that you are comfortable having.
Dr. Chern was friendly, professional, and efficient. She spent a lot of time with me and my teeth and took time to answer my questions thoughtfully. What a wonderful trip to the dentist!
-Jason K
What are the Benefits of Gum Contouring?
Gum contouring is performed for cosmetic reasons and health benefits. Excess gum tissue can make it easy for food particles to get trapped beneath the gums and this can cause tooth decay or gum irritation. Gingivitis is a common oral disease caused by inflamed and irritated gums. Aesthetically, large gums can hide your teeth so gum contouring will improve the appearance of your smile and create a more symmetrical appearance for your gum line and teeth.
Am I a Candidate for Gum Contouring?
If you frequently suffer from gum or periodontal disease or if you feel you have a gummy smile, you may be a candidate for gum contouring. The decision to have gum contouring treatment is ultimately up to you and most people are a candidate for this procedure.
Meet With Dr. Chern &
Her Manhattan Team
To learn more about _____ in Manhattan and your treatment options, contact our office for an appointment by calling or filling out our online form. Dr. Inna Chern and her team will personally work with you to plan your best treatment options and restore the function and beauty of your smile.
The Gum Contouring Treatment Procedure
Before your procedure, Dr. Chern will discuss your cosmetic goals to create customized results that match your desired look. During the procedure, a local anesthetic will be injected into the gum line to minimize any discomfort you might feel during the procedure. A laser or scalpel will be used to carefully remove excess gum tissue and reshape your gum line. The entire procedure takes about 1-2 hours.
Caring for Your Teeth After Gum Contouring
After gum contouring, your gums will be sore or swollen for up to one week. Here are a few ways you can care for your teeth and help your gums heal quickly:
Avoid spicy food
Avoid food with seeds
Stick to a soft diet and drink plenty of water
Be careful while brushing and flossing
Take over-the-counter pain relievers to relieve discomfort
Apply ice packs for 15 minutes at a time
See your dentist for a follow-up
What Makes Our Office the Right Fit for Your Dental Needs?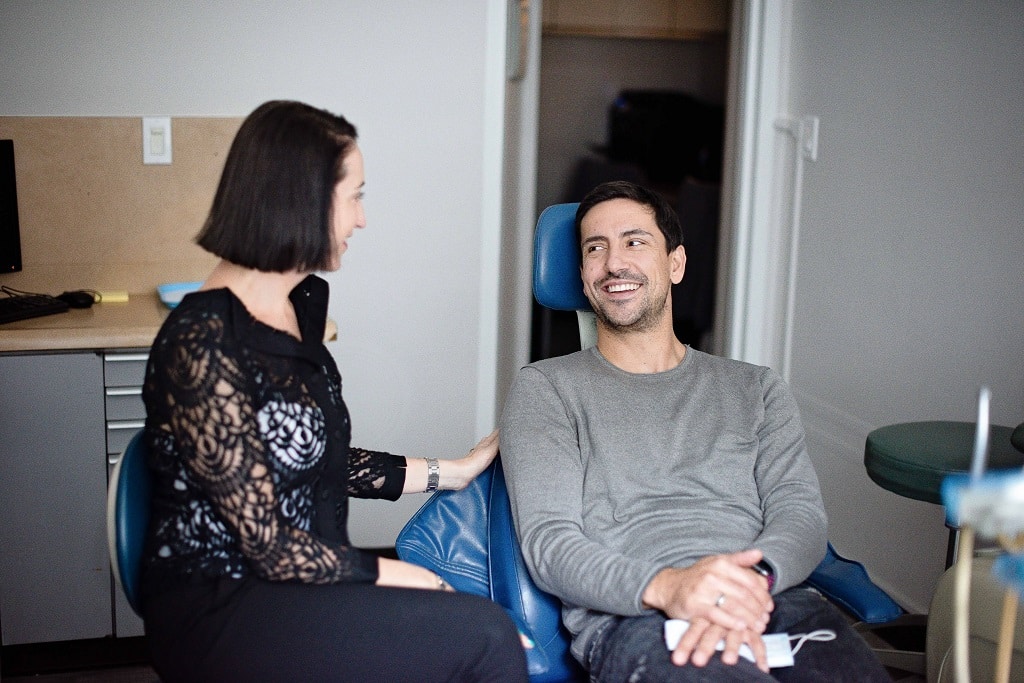 Personalized Care
We never take a one-size-fits-all approach to your oral health. Dr. Chern will evaluate your teeth and gums, working closely with our team to create a custom solution.
Comfortable Office
Our bright and modern Midtown East Manhattan office was designed with you in mind. Enjoy a calming atmosphere and comfortable amenities to help you feel at ease.
Health-First Approach
New York General Dentistry uses modern techniques and equipment to ensure your treatment is a success.
Let's Brighten Your Smile!
New York General Dentistry is always welcoming new patients to our Midtown East dentist office.
Our New York City Office
Midtown East Manhattan
133 East 58th St., ste 409
New York, NY 10022
Get Directions
Hours:
Monday 8am – 7pm
Tuesday 8am – 5pm
Wednesday 8am – 5pm
Thursday 8am – 7pm
Friday 8am – 5pm

Sundays – Available by request for special cases and dental emergencies