What is Dental Bonding?
Dental bonding, also sometimes called composite bonding, is a restorative dental technique used to enhance a person's smile. During the procedure, a tooth-colored resin material is applied to the affected teeth to conceal chips or cracks, camouflage tooth discoloration, close gaps between the teeth, or change the shape of the teeth.
What are the Benefits of Dental Bonding?
Dental bonding offers many benefits including:
Minimally invasive treatment: Dental bonding does not usually require enamel removal, unlike porcelain veneers and dental crowns.
Versatile: Dental bonding can be used to correct a wide variety of dental imperfections.
Cost-effective: This treatment is less costly than ceramics
Fast and convenient: Dental bonding does not require several appointments and can be completed in just one to two office visits.
Real Results
New York Genral Dentistry is committed to providing the best in dental health care and meeting your unique needs. View our gallery of incredible results!
Am I A Candidate for Dental Bonding?
Candidates for dental bonding often have small imperfections that affect their teeth. Ideal candidates will have healthy teeth, meaning that even if they have visible imperfections, there is no inflammation or decay present. To learn more about your candidacy, please contact New York General Dentistry today to schedule a consultation.
"Dr. Chern is great! I would definitely recommend her to everyone; and more importantly, she loves what she does."
-Daphnee S
The Dental Bonding Procedure
Before your dental bonding procedure, Dr. Inna Chern will discuss your restorative dental goals, and X-rays of your teeth will be taken to ensure you are an eligible candidate. Those who have gum disease or severe tooth decay will need to treat those issues before receiving dental bonding.
To begin your dental bonding appointment, a shade guide will be used to select a composite resin material that best matches the color of your natural teeth. The surface of your tooth will then be prepared to help the bonding material stick to your tooth. Dr. Chern will then apply the resin material, which is then molded and smoothed to the desired shape. The resin is hardened with a special curing light, which bonds the material to the surface of the tooth. To finish up the treatment, the tooth will be polished to create a natural-looking shine. This process usually takes between 30 and 60 minutes to complete.
Caring for Your Teeth After Dental Bonding
Following dental bonding, it is important to maintain proper oral hygiene practices to keep the mouth healthy and clean. Brushing at least twice a day with flossing between the teeth at least once daily, along with regular dental visits and cleanings can ensure a beautiful smile.
Meet With Dr. Inna Chern & Her Manhattan Team
To learn more about Dental Bonding in Manhattan and your treatment options, contact our office for an appointment by calling or filling out our online form. Dr. Inna Chern and her team will personally work with you to plan your best treatment options and restore the function and beauty of your smile.
What Makes Our Office the Right Fit for Your Dental Needs?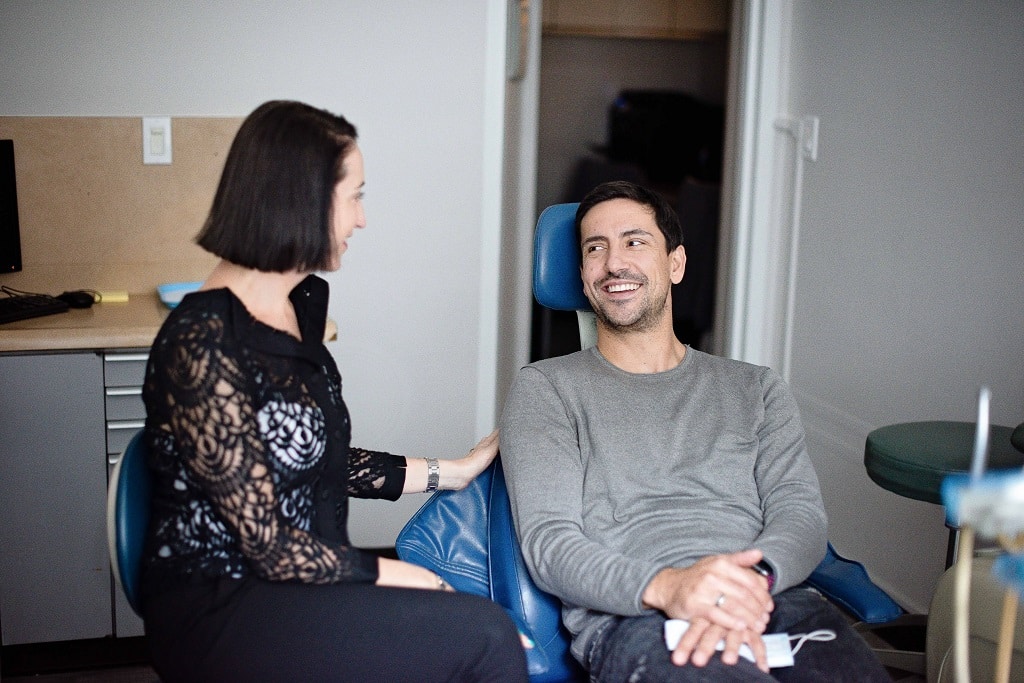 Personalized Care
We never take a one-size-fits-all approach to your oral health. Dr. Chern will evaluate your teeth and gums, working closely with our team to create a custom solution.
Comfortable Office
Our bright and modern Midtown East Manhattan office was designed with you in mind. Enjoy a calming atmosphere and comfortable amenities to help you feel at ease.
Health-First Approach
New York General Dentistry uses modern techniques and equipment to ensure your treatment is a success.
Let's Brighten Your Smile!
New York General Dentistry is always welcoming new patients to our Midtown East dentist office.
Our New York City Office
Midtown East Manhattan
133 East 58th St., ste 409
New York, NY 10022
Get Directions
Hours:
Monday 8am – 7pm
Tuesday 8am – 5pm
Wednesday 8am – 5pm
Thursday 8am – 7pm
Friday 8am – 5pm

Sundays – Available by request for special cases and dental emergencies