There are a lot more things that your dentist can do for your smile than you might think. Although your dentist can keep your smile healthy and free of problems, your dentist can also help you feel more confident in your smile and help you find relief from a variety of concerns. Having a dentist who's experienced and knowledgeable about a variety of treatments and technologies can have many benefits, including time and money. Additionally, your dentist can help you create a treatment plan that encompasses all possible options, not just the basics. Dr. Inna Chern is a leading specialty dentist in the East Manhattan area and our team can help you explore our best options for oral and full-body health.
What is Specialty Dentistry?
Dentists can provide many services and treatments beyond the scope of deep cleanings and assessment of your overall oral health. In fact, dentists can also provide cosmetic treatments and even medical treatments for the jaw and head related to your oral health. This is typically called specialty dentistry and it can be more convenient than seeing a specialist. With specialty dentistry, you can get specialized care from the same dentist taking care of your regular oral health so they have a complete picture of your dentistry needs.
What Do Specialty Dentists Do?
Specialty dentists offer a variety of treatments and technologies that aren't common in other basic dental practices. A specialty dentist has experience and training in a variety of cosmetic and medical treatments that are related to oral health and can support your overall smile goals. Additionally, a specialty dentist can help you achieve relief for a variety of symptoms that aren't directly related to your mouth but may be linked.
At New York General Dentistry, we offer a variety of specialty treatments and can help you feel more confident in your smile and your treatment experience. Dr. Chern can take the time to discuss your concerns and how they can best be addressed using general and specialty dentistry.
What Qualifications Do Specialty Dentists Have?
Specialty dentists typically acquire their experience with specialty treatments by seeking out ongoing education opportunities. Specialty dentists may also be cosmetic dentists and have a background in general dentistry, so they have a complete scope of experience in dental care. A specialty dentist may even have some experience in orthodontics, laser technologies, or cosmetic injections in order to provide a variety of services at a single practice.
"I have been Dr.Chern's patient for several years now and I have no intention of ever finding another dentist. She was my primary dentist when i lived in NY, but I have since moved to DE and PA , and will travel up to see her for my appointments. When you find an amazing dentist, you stick with them. She's honest, professional, delicate and knows what she's doing. Her staff is just as amazing."

– David K.


Specialty Dentistry Services in Midtown Manhattan
Cosmetic Gum Contouring
Cosmetic gum contouring can help you fine-tune the way your smile appears. It can be used to reduce the amount of visible gum to reveal bright, healthy enamel underneath and lengthen the appearance of the tooth. This process can help balance your smile while still maintaining your oral health and preventing decay.
Removable Orthodontic Retainers
Removable orthodontic retainers can be a great alternative to traditional braces or fixed retainers. Retainers can help maintain the results of your orthodontic treatment or shift your teeth to a straighter position. Removable retainers allow you to remove them while eating or drinking and still shift or maintain your teeth throughout the rest of the day.
Fixed Retainers
Fixed retainers are a great option if you don't want to worry about removing or losing your retainer – or if you need specialized treatment to shift your teeth. A specialty dentist can help you explore your options for a comfortable, easy treatment plan.
Headaches/Migraines
Headaches and migraines can sometimes be caused by problems with the jaw, neck, or head. BOTOX® is a medical injectable treatment that can help freeze muscle activity or spasms that contribute to migraines or chronic headaches. It can last for 3-6 months and drastically reduce the frequency of migraines or severe headaches.
Gummy Smile
A gummy smile is a smile that shows mostly gums rather than teeth. BOTOX can be an effective treatment option for a gummy smile since it can reduce activity in specific muscles around the mouth that activate when smiling. By freezing specific muscles around the mouth, your specialty dentist can help reveal more of your teeth and less gum without impacting your natural ability to smile. BOTOX typically lasts 3-6 months.
Meet With Dr. Chern &
Her Manhattan Team
General dentistry comes with a lot of benefits and can help you optimize your oral health for a lifetime. To meet with our team and learn more about your options, we invite you to contact our office by calling or filling out our online form.
What Makes Our Office the Right Fit for Your Dental Needs?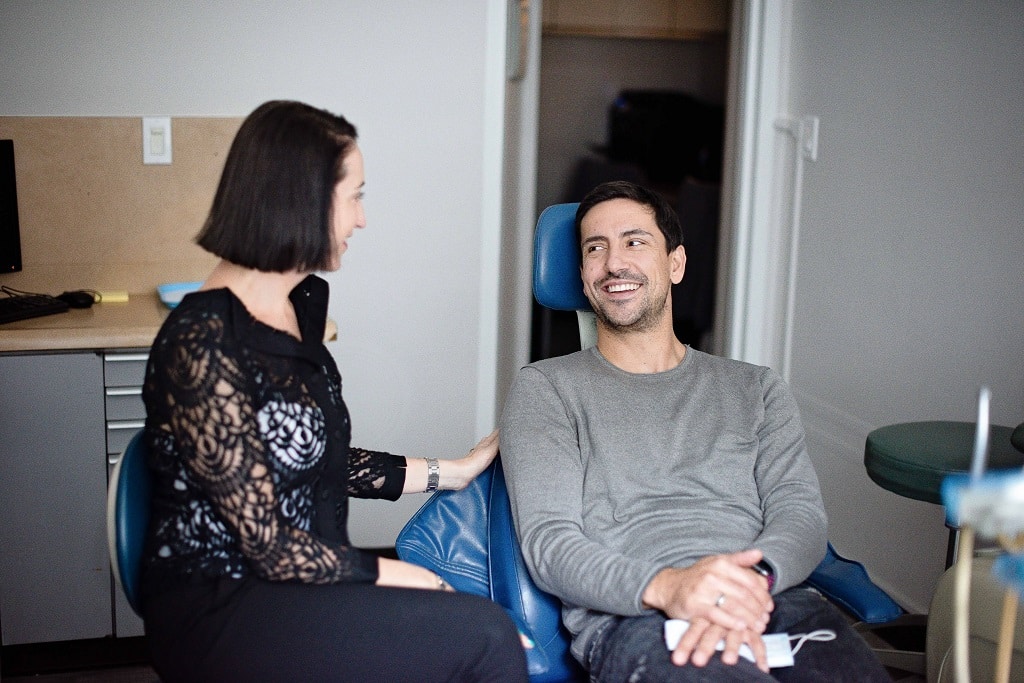 Personalized Care
We never take a one-size-fits-all approach to your oral health. Dr. Chern will evaluate your teeth and gums, working closely with our team to create a custom solution.
Comfortable Office
Our bright and modern Midtown East Manhattan office was designed with you in mind. Enjoy a calming atmosphere and comfortable amenities to help you feel at ease.
Health-First Approach
New York General Dentistry uses modern techniques and equipment to ensure your treatment is a success.
Let's Brighten Your Smile!
New York General Dentistry is always welcoming new patients to our Midtown East dentist office.
Our New York City Office
Midtown East Manhattan
133 East 58th St., ste 409
New York, NY 10022
Get Directions
Hours:
Monday 8am – 7pm
Tuesday 8am – 5pm
Wednesday 8am – 5pm
Thursday 8am – 7pm
Friday 8am – 5pm

Sundays – Available by request for special cases and dental emergencies