What Is An ICON White Spot Removal Procedure? How Can It Help My Smile?
Most people try their best to keep their teeth white and shining for a radiant and healthy appearing smile. While this can be a sign of very good dental health, it's normal to feel self-conscious about spots that are very white and noticeable– especially in areas that are visible when you smile. This is because white spots can be drastically different in color than the rest of your teeth, meaning it can feel like it's the first thing anyone sees.
In the past, the most comprehensive way to address white spots was through drilling out the area and replacing it with composite, tooth-colored resin. This was much more uncomfortable and invasive than modern-day techniques. Additionally, white spots could be covered by other restorative options like veneers or crowns, but this came at a high cost and a long wait while these devices were fabricated in a lab. Fortunately, ICON is a revolutionary approach to cosmetically treating white spots on teeth without drilling or covering the teeth with dental prosthetics.
Today, ICON uses resin infiltration as a minimally invasive restorative technique for both post-ortho white spots and congenital hypocalcified enamel lesions. This comes with a lot of benefits, including no discomfort or pain, no anesthetic needed, and noticeable results after a single session. Additionally, it does not use abrasive techniques which can be damaging to your enamel. With quick and easy treatment at our Manhattan office and the help of our cosmetic team, you can enjoy a transformed smile with our best white spot removal treatments.
Dr. Chern for president!!
I was SO pleased with how professional, intelligent, and patient she is! She makes the experience easy and fun. Maybe the best dentist I've ever seen in my life… you will not regret making an appointment with her!
-Carter M
Causes of White Spots
Diet
Especially in the case of acidic foods and drinks, your diet can begin to affect your teeth' cosmetic appearance. Acidic foods can begin to break down enamel over time, and sugary foods can lead to plaque buildup which erodes enamel if left untreated. Finally, patients who often suffer from acid reflux can begin to experience white spots when regular exposure to acid from the gastrointestinal system can break down enamel.
Fluorosis
Fluoride is extremely important in strengthening your teeth to prevent decay and wear over your lifetime. Unfortunately, too much fluoride can have a negative effect on your smile's appearance, especially in children when their teeth are still developing. This is called fluorosis and can result in white spots all over the teeth.
Enamel Hypoplasia
This condition means that you have less enamel than normal as a result of mineral loss in the teeth. This usually happens because of a nutritional deficiency caused by factors like your diet, taking certain medications, and even some autoimmune disorders. It can also occur during pregnancy, meaning some people are simply born with it.
Plaque
Whether the result of poor brushing habits or orthodontic devices like traditional braces, plaque can build up and cause demineralization of the teeth. Plaque is simply bacteria that begin to break down enamel over time. The result is white spots which are often very visible after the brackets are removed or along the gumline.
Meet With Dr. Chern &
Her Manhattan Team
To learn more about White Spot Removal in Manhattan and your treatment options, contact our office for an appointment by calling or filling out our online form. Dr. Inna Chern and her team will personally work with you to plan your best treatment options and restore the function and beauty of your smile.
White Spot Removal FAQs
How long does it take to remove white spots on teeth?
How long does ICON white spot treatment last?
Can white spots be removed?
How do dentist remove white spots?
Can you repeat ICON treatment?
How long does ICON treatment take to work?
Are white spots on teeth permanent?
Will the white spots on my teeth go away after whitening?
Can you whiten teeth after ICON treatment?
How does ICON teeth treatment work?
Why do teeth get white spots?
Are white spots on teeth cavities?
Are white spots removable?
How long does it take for white spots to form?
Can you repeat the ICON treatment?
The ICON Treatment Process and What To Expect
Your ICON Appointment (30-60 minutes)
You'll meet with Dr. Chern and discuss your cosmetic goals for white spot removal, as well as any medical or lifestyle factors that may be causing white spots. Dr. Chern can discuss the best steps for you to prevent more white spots in the future.
Your white spots will be examined by Dr. Chern and photographs will be taken to track your progress.
A protective barrier is placed on the affected teeth.
An etching solution is placed on the teeth and rinsed; this process is repeated as necessary until the spot minimizes.
The teeth are dried and a resin infiltrant is placed on the area.
The area is light-cured and polished for a final luster.
Post-ICON photographs are taken so that you can see your before-and-after transformation. Then, you'll be given instructions to care for your teeth and maintain your new look. Once complete, you can return home.
Real Results
New York Genral Dentistry is committed to providing the best in dental health care and meeting your unique needs. View our gallery of incredible results!
Caring For Your ICON Treatment Results
Taking good care of your teeth after an ICON treatment is very important in ensuring you don't experience more white spots. However, if they do redevelop, you can return for re-treatment with ICON. It's recommended to avoid teeth whitening treatments in close proximity to ICON treatment since this can make white spots reappear. Whitening can be done a few weeks prior to or following ICON. Dr. Chern will go over your specific care instructions, but you can follow these care tips for a long-lasting, beautiful smile:
Eat a healthy diet (avoid having too many sweets and soft drinks)
See your dentist regularly (every 4-6 months) for a hygiene appointment
Brush your teeth twice daily for 2 minutes with a soft or electric toothbrush
Floss every day or use a water flosser (Waterpik)
Talk with Dr. Chern about any medical concerns that might affect your enamel
What Makes Our Office the Right Fit for Your Dental Needs?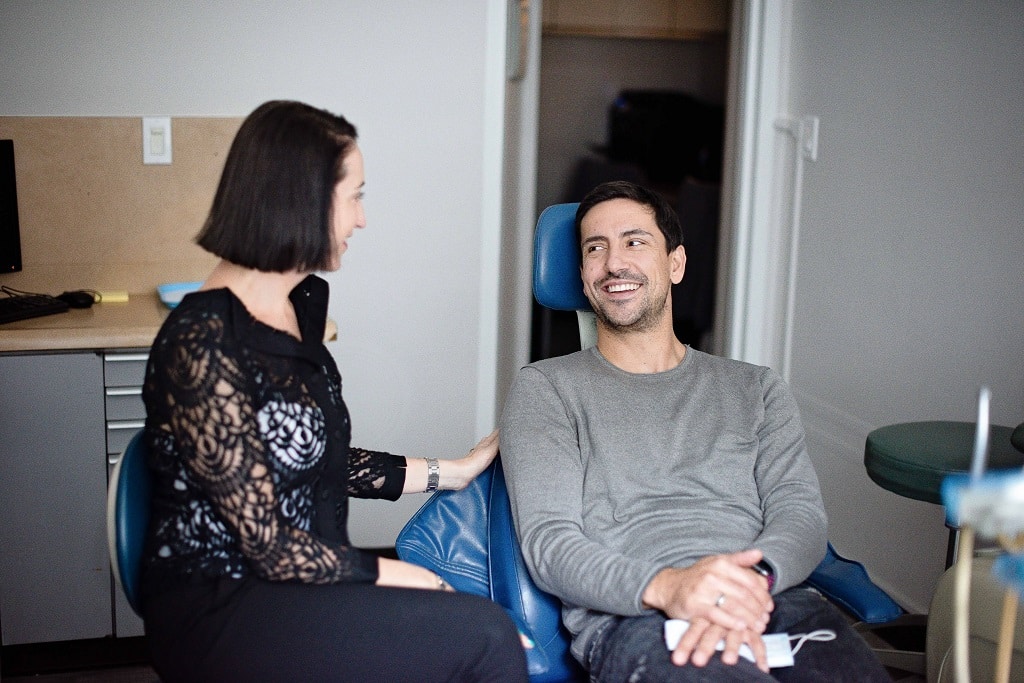 Personalized Care
We never take a one-size-fits-all approach to your oral health. Dr. Chern will evaluate your teeth and gums, working closely with our team to create a custom solution.
Comfortable Office
Our bright and modern Midtown East Manhattan office was designed with you in mind. Enjoy a calming atmosphere and comfortable amenities to help you feel at ease.
Health-First Approach
New York General Dentistry uses modern techniques and equipment to ensure your treatment is a success.
Let's Brighten Your Smile!
New York General Dentistry is always welcoming new patients to our Midtown East dentist office.
Our New York City Office
Midtown East Manhattan
133 East 58th St., ste 409
New York, NY 10022
Get Directions
Hours:
Monday 8am – 7pm
Tuesday 8am – 5pm
Wednesday 8am – 5pm
Thursday 8am – 7pm
Friday 8am – 5pm

Sundays – Available by request for special cases and dental emergencies