When you lose teeth, it can feel like people only see gaps when you smile or that you can't eat as well. For many people with missing teeth, this can make them avoid smiling altogether and prevent them from enjoying their favorite foods. If you feel like you try to avoid smiling because you have missing teeth, it's important to keep in mind that you have options for restoration– and that your dentist can help.
Along with affecting the appearance of your smile, a missing tooth (or multiple missing teeth) can cause movement of neighboring teeth in the mouth, disturbing your bite's delicate equilibrium. Along with this, it can make it more difficult to effectively clean your mouth and gums if you have gaps or shifted teeth. If you're suffering from missing teeth, a dental bridge is a fairly quick and excellent option for restoring your smile and your confidence by using the latest technologies and techniques.
A bridge fills the space in your mouth where teeth are missing, essentially "bridging" the gap and restoring health and function to your smile without the need for surgery. Using the teeth on either side of your missing tooth, a bridge holds the replacement tooth in place to prevent further shifting and to maintain the completeness of your smile. Bridges can be completed in as little as 2-3 weeks, making them low-hassle and easy to manage. Dr. Inna Chern offers dental bridges in New York City and other restorative options for your smile.
Dr. Chern was wonderful. I never had to wait, they we're very attentive. She was very kind and clear in explaining everything. She makes sure you're okay with every step, and doesn't mind explaining anything you might have questions about. Very happy with my visits.
-Alice S
Types of Dental Bridges
Traditional Dental Bridges
When you have natural teeth on both sides of the missing tooth, then a traditional bridge is your best option. Traditional dental bridges are the most common type of bridge used for restoration. They usually consist of one or more pontics (spacer teeth) and are held in place using dental crowns. These crowns are called abutments and are cemented onto the natural teeth around the gap to hold the bridge in position.
Cantilever Bridges
These dental bridges are similar to traditional bridges; however, the pontic is solely supported on one side by an abutment rather than on both sides. This option is ideal for people who only have one natural tooth next to the gap.
Maryland Bridges
Maryland dental bridges are an alternative option to traditional bridges that do not use crowns. Instead, the bridge is made of a pontic that is held in position by either a porcelain or metal framework. The framework is bonded to the backs of the adjoining teeth next to the gap.
Implant-Supported Bridges
These are the most advanced methods of replacing missing teeth. Implant-supported bridges are a good option when you have one or more missing teeth. These dental devices are supported by implants rather than crowns or frameworks. Since these bridges are secured by dental implants, they feel comfortable and are much like a natural tooth. Two procedures are required for dental bridges supported by implants. The first step is performed by an oral surgeon to place the implants. After a recovery period of 3-6 months, the second procedure is performed where the bridge is placed. Though this may seem like a lengthy process, the results are permanent and natural-looking.
Do I Need a Dental Bridge?
If you have a missing tooth or several missing teeth in a row, a dental bridge may be the best option for you. In addition to serving as a cosmetic procedure to improve the appearance of your teeth, dental bridges are beneficial for the health of your surrounding teeth. The bridge prevents your natural teeth from shifting or facing damage due to improper bite. However, if the surrounding teeth are damaged, infected, or decayed, they may not adequately support the bridge and another procedure, such as a root canal or dentures, may be better suited to you. Dr. Inna Chern is an expert in dental bridges and will be able to determine if this is the best procedure for you. To find out whether you're suited to dental bridges, call Dr. Chern in NYC.
Meet With Dr. Inna Chern & Her Manhattan Team
To learn more about Dental Bridges in Manhattan and your treatment options, contact our office for an appointment by calling or filling out our online form. Dr. Inna Chern and her team will personally work with you to plan your best treatment options and restore the function and beauty of your smile.
The Dental Bridge Treatment Process and What to Expect
Your First Appointment (60-90 minutes)
Pictures and models will be taken to assess the area. These both help determine the right tooth shape and color selection, as well as help, collaborate with the dental lab. The dental lab will make your dental bridge custom so that it best matches the color and shape of your surrounding natural teeth and have the best cosmetic result.
You'll discuss your cosmetic desires and material options for the bridge with Dr. Chern. Dental bridges can be made from a variety of materials, including porcelain, gold, alloys, or a combination of materials.
The neighboring teeth will be prepared under local anesthesia to act as the "anchors" for your dental bridge so that it can be fixed in place permanently. You won't feel any discomfort or pain during this step.
A temporary bridge will be placed to protect your teeth and gums while the lab fabricates the permanent bridge framework.
Your Second Appointment (30-45 minutes)
The temporary bridge will be removed and the bridge framework will be tried on to check its function and aesthetics. The specific considerations at this step will vary according to the materials you have chosen for your bridge. For example, if you've chosen porcelain, color matching can be evaluated at this step.
A new "pick-up" impression will be taken and the framework will be sent back to the lab for ceramic application.
Your temporary bridge will be replaced and any necessary pictures will be taken.
Your Final Appointment (30-45 minutes)
The final restoration will be placed in your mouth and checked for function and aesthetics.
The finished bridge will be bonded into place to complete your restoration.
Dr. Chern will provide you with a list of instructions for your new dental bridge.
Your Follow-Up Appointment (15 minutes)
We will schedule a follow-up 1-2 weeks after the placement of your new bridge to check how your teeth are feeling and functioning. We may also recommend a bite splint or nightguard to protect your new prosthetic from excessive force.
Dental Bridge FAQs
Are dental bridges permanent?
Can a tooth get infected under a bridge?
Can a dental bridge be done in one day?
Can you eat with a temporary bridge?
Can you fix a dental bridge?
Can a dentist fix a loose bridge?
Can a tooth bridge be removed and put back on?
Can you get decay under a bridge?
Do dental bridges break easily?
Do dental bridges look natural?
Can you have a 3 tooth bridge?
Can you smoke after getting a bridge?
When can you eat after getting a bridge?
What is better a partial or a bridge?
What can I expect after dental bridge?
Should there be a gap between Bridge and gum?
What is a permanent bridge?
What happens if your bridge falls out?
What do I do if my dental bridge is loose?
What causes dental bridges to fall out?
Is a bridge better than an implant?
How do you floss a dental bridge?
How long after tooth extraction can a bridge be fitted?
How does a dental bridge feel?
How does a dentist remove a fixed bridge?
How do you prepare for a dental bridge?
How do you know if your dental bridge is loose?
Do I need a bridge after tooth extraction?
Do teeth bridges fall out?
How do you clean under a dental bridge?
Does food get stuck under dental bridge?
Do you need a bone graft for a bridge?
Can you use an electric toothbrush on a bridge?
Can you super glue a dental bridge?
Are there different types of dental bridges?
Real Results
New York Genral Dentistry is committed to providing the best in dental health care and meeting your unique needs. View our gallery of incredible results!
Caring For Your Bridge
Taking good care of your dental bridge will guarantee a long-lasting restoration. Follow these care tips to ensure that you maintain your new smile, ensure the health of your teeth, and get the most out of your investment:
Eat a healthy diet (enjoy sweets and soft drinks in moderate amounts).
See your dentist regularly (every 4-6 months for a hygiene appointment).
Brush your teeth twice daily for 2 minutes with a soft or electric toothbrush.
Floss every day or use a water flosser (Waterpik).
Always clean between the teeth and around the dental bridge.
What Makes Our Office the Right Fit for Your Dental Needs?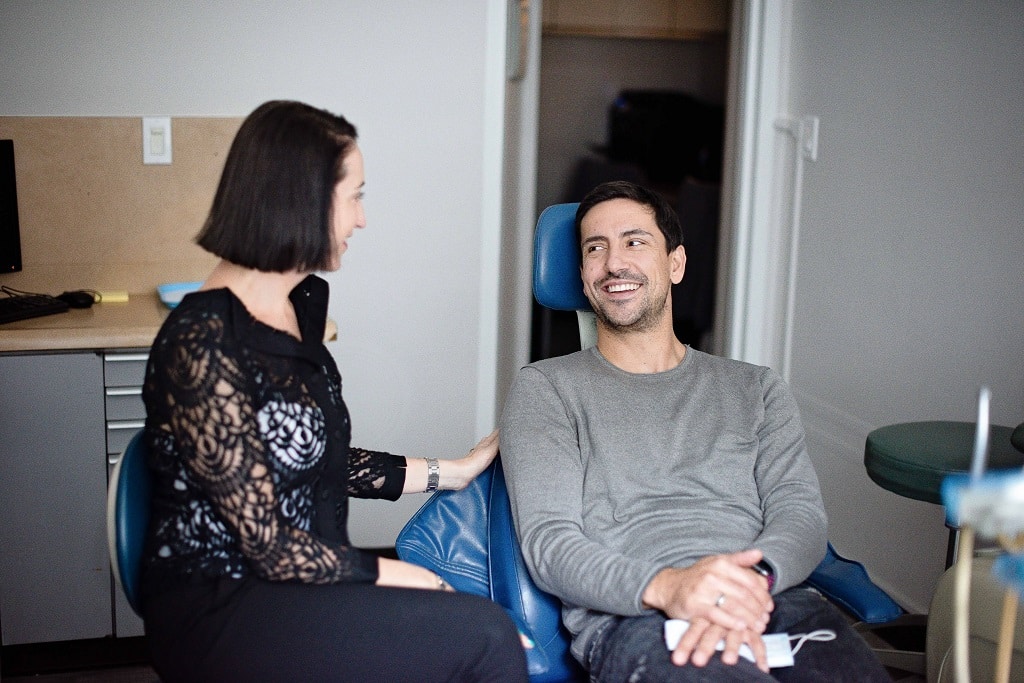 Personalized Care
We never take a one-size-fits-all approach to your oral health. Dr. Chern will evaluate your teeth and gums, working closely with our team to create a custom solution.
Comfortable Office
Our bright and modern Midtown East Manhattan office was designed with you in mind. Enjoy a calming atmosphere and comfortable amenities to help you feel at ease.
Health-First Approach
New York General Dentistry uses modern techniques and equipment to ensure your treatment is a success.
Let's Brighten Your Smile!
New York General Dentistry is always welcoming new patients to our Midtown East dentist office.
Our New York City Office
Midtown East Manhattan
133 East 58th St., ste 409
New York, NY 10022
Get Directions
Hours:
Monday 8am – 7pm
Tuesday 8am – 5pm
Wednesday 8am – 5pm
Thursday 8am – 7pm
Friday 8am – 5pm

Sundays – Available by request for special cases and dental emergencies
Real Results
New York Genral Dentistry is committed to providing the best in dental health care and meeting your unique needs. View our gallery of incredible results!