What Is a Smile Design and How Can It Help Transform My Confidence?
If you feel embarrassed when you smile, it can be hard to be confident when you're at your best. There are a lot of reasons that people dislike their smiles, like misaligned or missing teeth, chips, cracks, discoloration, and more. The good thing is that there are plenty of options available to address your concerns with the help of your dentist.
A smile design is a comprehensive, customized set of cosmetic treatments designed to transform the natural beauty of your smile and improve your dental health. It usually involves one or more restorative treatments designed to improve many different aspects of your smile over time. Effective smile design takes into account both your smile's cosmetic appearance and its healthy function.
At New York General Dentistry, our smile design services are a collaborative effort between you and Dr. Chern. Together, we'll create a treatment plan that transforms your smile and makes sure you feel comfortable in your best moments. We'll also ensure you're comfortable, relaxed, and excited about the new you.
Dr. Chern is an outstanding dentist. I went to her a few months ago terrified of dental work and embarrassed by my oral health. After a few appointments where she walked me through each procedure and checked in with my thought, I am on my way to great Oral health and no longer nervous walking in the door. Thank you, Dr. Chern!
-Britney L
Types of Smile Design Treatments
Veneers
Veneers are a quick restoration solution for patients who are unhappy with the appearance of their smiles. Veneers are made from natural, tooth-colored ceramic materials like porcelain. They are attached to the front of your teeth to improve the shape, color, and overall appearance, and are virtually undetectable to other people. They usually last for many years with the right care.
Teeth Bleaching
Many people experience tooth staining over time which affects their confidence when smiling. These stains come from many different factors like foods, beverages, lifestyle choices, and aging. Professional whitening treatments are one of the best options for getting rid of stains and yellowness that come with regular wear on your teeth. This can be completed in our office in as little as 40-60 minutes.
White Spot Removal
White spots are a common occurrence on teeth, and some of the causes include dental fluorosis, enamel hypoplasia, and poor dental hygiene. They can form during normal tooth development or after certain orthodontic treatments. They often require some professional help since bleaching or whitening treatments can make them stand out even more. White spots can be removed at our office with non-invasive, safe, and painless techniques that preserve healthy tooth structure for a clear and uniform smile.
Real Results
New York Genral Dentistry is committed to providing the best in dental health care and meeting your unique needs. View our gallery of incredible results!
Invisalign
Invisalign is an alternative to traditional braces and can gradually straighten your teeth over the course of six months using specially-designed trays fabricated for your mouth. You'll change out your trays every few weeks to shift your teeth into position without the discomfort or embarrassment of traditional braces. The biggest benefit of Invisalign is that you can remove them for eating and brushing, but they're otherwise undetectable.
Meet With Dr. Chern &
Her Manhattan Team
To learn more about White Spot Removal in Manhattan and your treatment options, contact our office for an appointment by calling or filling out our online form. Dr. Inna Chern and her team will personally work with you to plan your best treatment options and restore the function and beauty of your smile.
The Smile Design Treatment Process and What to Expect
Your First Appointment (60-90 minutes)
Dr. Chern will get to know you and your smile improvement goals. We encourage patients to bring pictures of their ideal tooth design and color. We will discuss your dental health history and take some photographs to better visualize your smile and how your teeth relate to your face. This also helps you compare your before and after!
Dr. Chern will perform a comprehensive exam and check your TMJ, teeth, and gums for optimal health and function.
Dr. Chern will discuss your treatment options for your specific goals at length and take any necessary impressions for lab collaboration.
Your Second Appointment (30-45 minutes)
You and Dr. Chern will inspect any models and photographs together and discuss what you're hoping to achieve in more detail.
Based on the discussion you have with Dr. Chern, the model will be approved or adjusted to your goals and your treatment options will be completed. A trial smile for more complex work is used to visualize the final product.
Your Final Appointment (30-45 minutes)
It's now time to get started on your specific treatments. The process will be customized to fit your health, comfort levels, budget, and schedule. Smile design outcomes vary in duration but we are here to help at every step along the journey. Most importantly, our goal is to help you smile confidently again— we want you to love showing your smile to the world!
Caring For Your New Smile
Now that the journey is over, it's extremely important to maintain your beautiful new smile! Depending on the types of treatments, your maintenance may be different. However, it's important to follow a few core steps to make sure your teeth stay beautiful and functional for the long term:
Eat a healthy diet (with a moderate amount of sweets and soft drinks)
See your dentist regularly (every 4-6 months) for a hygiene appointment
Brush your teeth twice daily for 2 minutes with a soft or electric toothbrush
Floss every day or use a water flosser (Waterpik)
Always clean between the teeth and around the dental work
At what age do gums start to recede?
Can veneers fix receding gums?
Can braces fix an uneven gum line?
Do gums grow back after gum contouring?
Can Cosmetic Dentistry fix receding gums?
Do gums grow back if cut?
Can surgery fix receding gums?
How can I fix my gum line?
How can I get thicker gums?
Is gum contouring painful?
How do you hide gum recession?
Is there an alternative to gum grafting?
What does a periodontist do for receding gums?
How is gum contouring done?
Why are my gums covering my teeth?
How much gum recession is normal?
How long will gum contouring results last?
How long does gum contouring take?
How do you care for your teeth and gums after gum contouring?
What Makes Our Office the Right Fit for Your Dental Needs?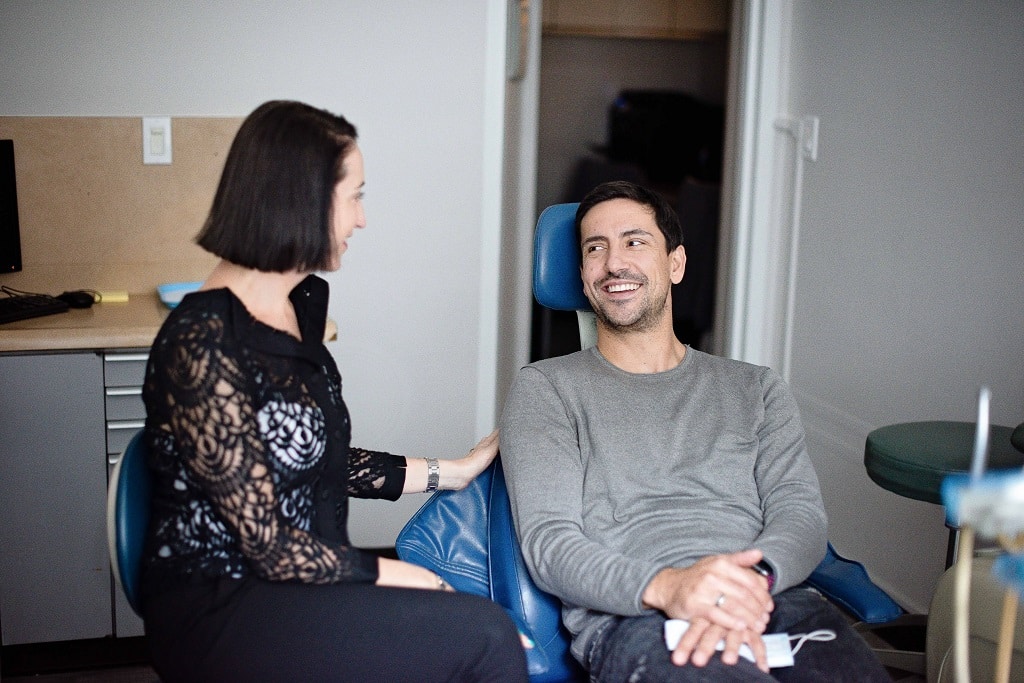 Personalized Care
We never take a one-size-fits-all approach to your oral health. Dr. Chern will evaluate your teeth and gums, working closely with our team to create a custom solution.
Comfortable Office
Our bright and modern Midtown East Manhattan office was designed with you in mind. Enjoy a calming atmosphere and comfortable amenities to help you feel at ease.
Health-First Approach
New York General Dentistry uses modern techniques and equipment to ensure your treatment is a success.
Let's Brighten Your Smile!
New York General Dentistry is always welcoming new patients to our Midtown East dentist office.
Our New York City Office
Midtown East Manhattan
133 East 58th St., ste 409
New York, NY 10022
Get Directions
Hours:
Monday 8am – 7pm
Tuesday 8am – 5pm
Wednesday 8am – 5pm
Thursday 8am – 7pm
Friday 8am – 5pm

Sundays – Available by request for special cases and dental emergencies