Invisalign offers you an invisible way to straighten your teeth. No more braces, no more wires or brackets! Invisalign clear braces have completely revolutionized the world of teeth alignment. Get the smile you always desired without the hassle of traditional wires and brackets.
Each set of Invisalign clear braces must be worn for 2 weeks and then replaced with a new set. With each of these replacements, your teeth move a little till they have achieved the final prescribed alignment. And the best part about the Invisalign clear braces Midtown East patients choose? You can remove them for flossing, brushing, eating, and drinking!
If you do not wish to draw anybody's attention to the fact that you are getting dental treatment and ask yourself if there is Invisalign near me, schedule a consultation with Dr. Chern at New York General Dentistry today.
What is Invisalign?
Invisalign clear braces are an alternative to traditional dental braces and your treatment requires a dentist or an orthodontist with a digital system. Your dentist will take the mold of your teeth for creating a digital tooth scan. A computerized model will suggest the stages that are to be used between the current teeth' positions to reach the desired results. Your Invisalign Midtown East aligners are created in different ways to support each stage of the alignment procedure. Every Invisalign aligner set will be worn for at least 20 hours each day for a period of two weeks.
Meet With Dr. Chern &
Her Manhattan Team
To learn more about Invisalign in Manhattan and your treatment options, contact our office for an appointment by calling or filling out our online form. Dr. Inna Chern and her team will personally work with you to plan your best treatment options and restore the function and beauty of your smile.
How does Invisalign work?
Your Invisalign Midtown East dentist will use 3D Imaging technology to show you the complete treatment plan from the current position of your teeth to the final desired result. This technology is then used to design customized Invisalign clear braces for your use. You wear each set for about 2 weeks as your teeth move incrementally.
What can you expect from your Invisalign clear braces Midtown East treatment?
Our Invisalign clear braces Midtown East patients can enjoy these benefits:
Customized treatment: Your Invisalign provider takes an impression of your teeth so that your aligners are custom-made to ensure they fit best.
Effectiveness: Even before your Invisalign Midtown East treatment ends, you will begin to enjoy the benefits of having a better smile. Your teeth alignment starts at once when the Invisalign clear braces are installed.
Removable braces: Your Invisalign aligners can be removed when eating or brushing. You can even choose to remove them for a while when attending any special occasion.
Comfort: Invisalign clear braces Midtown East patients report that they faced no discomfort or irritation in the gums or mouth with these aligners.  
Clear braces: Invisalign clear braces are barely visible to people from the outside. This reduces any social awkwardness while you undergo the treatment for teeth straightening.
Who is a good candidate for Invisalign?
Several dental concerns for the youth and even adults can be taken care of by Invisalign. Dentists are using Invisalign clear braces for minor adjustment as well as extensive treatments alike. If you have widely spaced teeth, overly crowded teeth, overbite, underbite, or crossbite, all dental issues can be easily fixed using Invisalign.
About Midtown East, NY
Midtown Manhattan or the central portion of the New York Borough of Manhattan is home to some of the city's most iconic buildings such as the Empire State Building, the Chrysler Building, the Hudson Yards Redevelopment Project, Grand Central Terminal, Rockefeller Center, and Times Square. The area between the 59th and 34th streets is subdivided into Midtown East, Midtown, and Midtown West. The area between 5th and Madison would be considered the Midtown East. It has numerous stores and shopping options. Some of the hotels available in the area include Intercontinental the Barclay, Millennium UN Plaza, and the Fitzpatrick. Like the rest of New York, Midtown East is incredibly walkable, has an excellent subway, buses, and taxi service making every corner easily accessible.
What Makes Our Office the Right Fit for Your Dental Needs?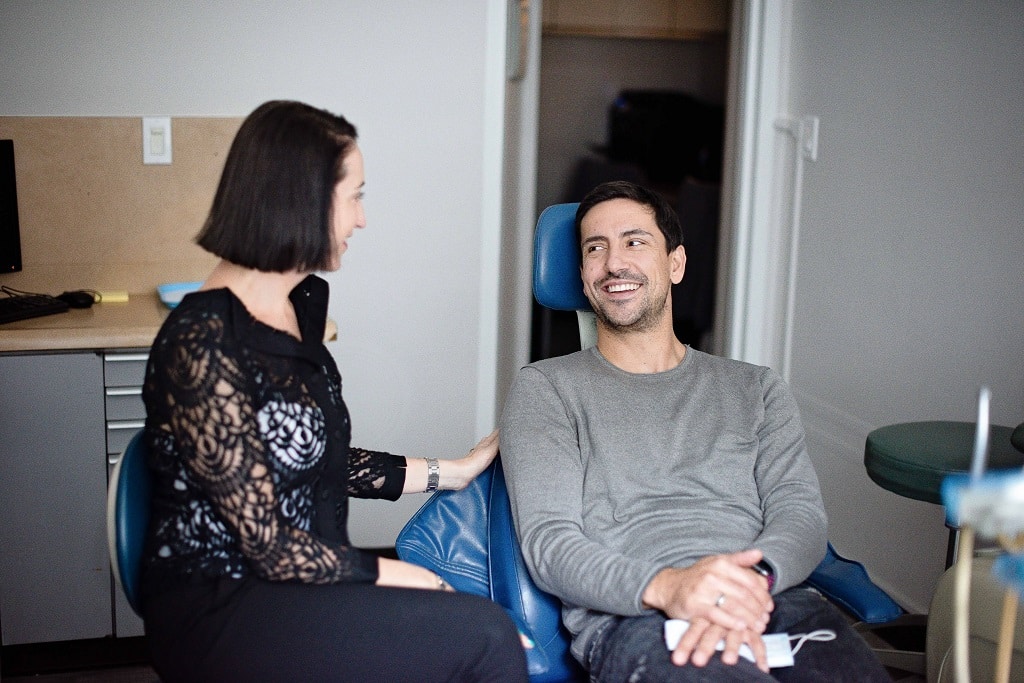 Personalized Care
We never take a one-size-fits-all approach to your oral health. Dr. Chern will evaluate your teeth and gums, working closely with our team to create a custom solution.
Comfortable Office
Our bright and modern Midtown East Manhattan office was designed with you in mind. Enjoy a calming atmosphere and comfortable amenities to help you feel at ease.
Health-First Approach
New York General Dentistry uses modern techniques and equipment to ensure your treatment is a success.
Our New York City Office
Midtown East Manhattan
133 East 58th St., ste 409
New York, NY 10022
Get Directions
Hours:
Monday 8am – 7pm
Tuesday 8am – 5pm
Wednesday 8am – 5pm
Thursday 8am – 7pm
Friday 8am – 5pm

Sundays – Available by request for special cases and dental emergencies